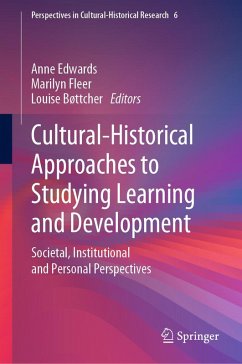 Andere Kunden interessierten sich
auch
für
---
Dieser Download kann aus rechtlichen Gründen nur mit Rechnungsadresse in A, B, BG, CY, CZ, D, DK, EW, E, FIN, F, GB, GR, HR, H, IRL, I, LT, L, LR, M, NL, PL, P, R, S, SLO, SK ausgeliefert werden.
Produktdetails
Verlag: Springer-Verlag GmbH
Erscheinungstermin: 02.04.2019
Englisch
ISBN-13: 9789811368264
Artikelnr.: 56834117
1 Cultural-historical approaches to studying learning and development: societal, institutional and personal perspectives.- Section 1 Studies of Child Development from a Wholistic Perspective.- 2 Children's perspectives and institutional practices as keys in a wholeness approach to children's social situations of development.- 3 Psychological content of developmental education in cultural-historical approach.- 4 A collective social situation of development for understanding play in families.- 5 The cultural nature of the zone of proximal development: Young people with severe disabilities and their development of independence.- 6 Supporting heritage language development through adults' participation in activity settings.- 7 Motives and Demands in Parenting Young Children: A Cultural-Historical Account of Productive Entanglement in Early Intervention Services.- Section 2 Life in Schools.- 8 The double move in meaningful teaching revisited.- 9 Vygotsky's developmental pedagogy recontextualised as Hedegaard's double move: Science teaching in grades 1 and 2 in a disadvantaged school in South Africa.- 10 Building and using common knowledge a tool for pedagogic action: a dialectical interactive approach for researching teaching.- 11 Am I doing it right? Normative performativity in the emergence of learning as a leading activity.- 12 Motive-demand dynamics creating a social context for students' learning experiences in a making and design environment.- 13 Motive orientation and the exercise of agency: responding to recurrent demands in practices.- 14 The Work of Learning from Silence.- Section 3 Methodological Approaches and Philosophical Considerations.- 15 Social practice theory and the historical production of persons.- 16 Cultural-historical Activity Theory meets Developmental Systems Perspective: Transformative Activist Stance and Naturculture.- 17 Units and Wholes in the Cultural-historical Theory of Child Development.- 18 Studying Children's friendship activities ethically using the Interaction Based Observation Method.- 19 Reading and writing as a cultural praxis of youth.- 20 Re-covering the idea of a Tertiary Artifact.- 21 Mariane Hedegaard s contribution to developmental didactics and to pedagogical research in the brazilian context.