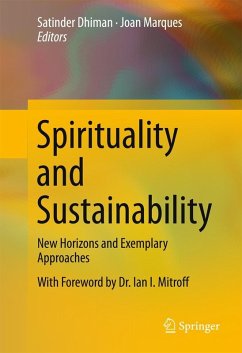 This book aims to examine sustainability and spirituality philosophically with ethics as the balancing force. The goal is to reveal the important intersection between sustainability and spirituality by using spirituality as the invisible guiding hand in the quest for sustainability. The editors and contributors examine old social and economics dilemmas from a new perspective in order to provide alternative approaches to economic and social development. The enclosed contributions cover a broad range of topics such as sustainable development and human happiness, contemporary spirituality, environmental ethics and responsibility, and corporate social responsibility. In addition, the title features real-world case studies and discussion questions that inspire self-reflection and theoretical and empirical deliberation in academic courses and business seminars.

Contemporary approaches to economic and social development have failed to address humankind's abiding need for spiritual growth. For material development to be sustainable, spiritual advancement must be seen as an integral part of the human development algorithm. While the policy makers and governments can play their respective role, each one of us has to consciously adopt spirituality and sustainability as a way of life. This book will rely on the spiritual power of individuals to heal themselves and the environment.

Featuring interdisciplinary perspectives in areas such as science, marine biology, environmental policy, cultural studies, psychology, philosophy, ecological economics, and ethics, this book will provide extensive insights into the complimentary fields of spirituality, sustainability and ethics.


Produktdetails
Erscheinungstermin: 13.06.2016
Englisch
ISBN-13: 9783319342351
Artikelnr.: 46925550
Foreword by Dr. Ian Mitroff.- Ch 1 The Case of Eco-Spirituality.- Ch 2 Sustaining the Cosmic Wheel of Sacrifice: Journey from Consumer to Contributor.- Ch 3 Moral Underpinnings of Sustainability.- Ch 4 The Environment is a Moral and Spiritual Issue.- Ch 5 Ethics and CSR for Spirituality and Sustainability .- Ch 6 Spiritual Capabilities: Keys to Successful Sustainable Strategic Management.- Ch 7 The Spiritual Roots of Economic Sustainability.- Ch 8 Higher Consciousness for Sustainability-as-Flourishing.- Ch 9 Formless Meditation and Sustainability.- Ch 10 Spirituality, Sustainability and Happiness.- Ch 11 Case Studies in Spirituality and Sustainability.- Ch 12 Putting Glam into Green: A Case for Sustainable Luxury Fashion.- Ch 13 Global Warming Calls for an Inner Climate Change.- Ch 14 Un-fathoming the Spirit of Sustainability.- Ch 15 Epilogue: The Ethics and Spirituality of Sustainability.