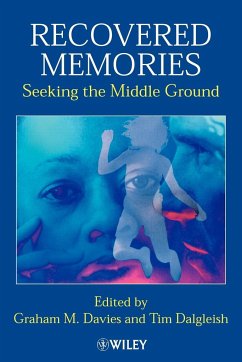 Produktdetails
Seitenzahl: 296
Erscheinungstermin: 29. November 2001
Englisch
Abmessung: 229mm x 152mm x 17mm
Gewicht: 456g
ISBN-13: 9780471491323
ISBN-10: 0471491322
Artikelnr.: 14916583
About the Editors. About the Contributors. Introduction. THE SOCIAL ASPECTS. Socio
historical Perspective (T. Dalgleish & N. Morant). Recovered Memories: Effects Upon the Family and Community (G. Gudjonsson). Recovered Memories of Abuse: Effects on the Individual (A. Skinner). Recovered Memories: The Legal Dilemmas (E. Magner & P. Parkinson). EVIDENTIAL ASPECTS. The Recovered Memories Controversy: Where Do We Go From Here? (D. Lindsay & J. Read). Discovering Fact and Fiction: Case
based Analyses of Authentic and Fabricated Discovered Memories of Abuse (K. Shobe & J. Schooler). Is It Possible to Discriminate True From False Memories? (G. Davies). CLINICAL ASPECTS. Therapeutic Techniques, Therapeutic Contexts and Memory (D. Bekerian & M. O'Neill). Recovered Memories in Therapy Clinicians' Beliefs and Practices (B. Andrews). Establishing Practice
based Guidelines for Therapists (N. Robertson). Psychogenic Amnesias: Functional Memory Loss (M. Kopelman & J. Morton). CONCLUDING COMMENTS. Memories of Abuse and Alien Abduction: Close Encounters of a Therapeutic Kind (M. Power). Author Index. Subject Index.