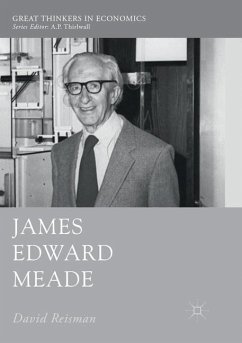 Andere Kunden interessierten sich
auch
für
Planning and the Price Mechanism in the shadow of post-war rationing to The Intelligent Radical's Guide to Economic Policy and Full Employment Regained? when inflation combined with stagnation reopened the debate between the monetarists and the Keynesians. Meade was active in politics, most prominently in the debates in the 1960s about the European Economic Community and in the 1980s on the formation of Britain's Social Democratic Party. As a person, he can best be described as a cultured Englishman, quiet and open, much in the mould of Coase, Mirrlees or Hicks.

This book draws upon the whole of Meade's published work. It incorporates insights from unpublished papers and surviving correspondence kept at the London School of Economics and Political Science as well as interviews with family members and associates. The book will be of interest to economists but also to the students of politics and philosophy that Meade himself would have wanted to reach.


Produktdetails
Great Thinkers in Economics
Artikelnr. des Verlages: 978-3-319-88747-0
Softcover reprint of the original 1st ed. 2018
Seitenzahl: 288
Erscheinungstermin: 4. September 2018
Englisch
Abmessung: 210mm x 148mm x 15mm
Gewicht: 379g
ISBN-13: 9783319887470
ISBN-10: 3319887475
Artikelnr.: 55129527
Chapter 1. Introduction.- Chapter 2. Social Policy.- Chapter 3. Taxation and Expenditure.- Chapter 4. Growth and Development.- Chapter 5. The International Economy.- Chapter 6. Customs Unions.- Chapter 7. Demand Management.- Chapter 8. Stagflation.- Chapter 9. Competition and Control.- Chapter 10. The Cooperative Way.- Chapter 11. Economic Planning.- Chapter 12. What Meade Meant.
---