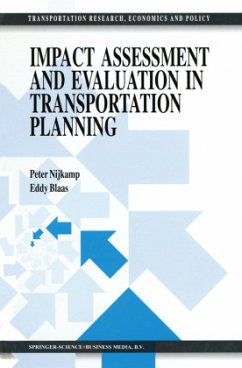 Andere Kunden interessierten sich
auch
für
Impact Assessment and Evaluation in Transportation Planning contains a refreshing approach to transportation planning by integrating impact analysis and evaluation methodology. It is original in that impact assessment and evaluation are brought together in a coherent framework. It is novel in the history of transportation science and particularly suitable as a pedagogical text, since methodologies are illustrated with various case studies and examples. It is particularly suitable for practitioners and students who want to become acquainted with conflict analysis and plan/project evaluation in the area of transportation planning.

Produktdetails
Transportation Research, Economics and Policy
Verlag: Springer / Springer Netherlands
Artikelnr. des Verlages: 978-0-7923-2648-9
1994.
Seitenzahl: 268
Erscheinungstermin: 31. Januar 1994
Englisch
Abmessung: 241mm x 160mm x 19mm
Gewicht: 553g
ISBN-13: 9780792326489
ISBN-10: 0792326482
Artikelnr.: 21842345
Preface. Part A: Transportation Planning: Shifting Boundaries. 1. Transportation Planning: a Theatre of Operations. 2. Need for Decision Support in Transportation Planning. Part B: Impact Assessment in Transportation Planning. 3. Principles of Impact Assessment. 4. A Review of Impact Analysis Methods. 5. Behavioural Impact Models in Transportation Planning. Part C: Case Studies in Transportation Impact Analysis. 6. A Micro-Oriented Inquiry among Entrepreneurs on Regional Impacts of Infrastructure. 7. Infrastructure Endowment and Regional Growth Potential: an Empirical Analysis. 8. Impacts of Infrastructure on Regional Development: Results from a Frequency Analysis. 9. An Explanatory Impact Model for ERDF Expenditures and Regional Development. Part D: Methodology of Evaluation in Transportation Planning. 10. Evaluation and Conflict Analysis in Planning. 11. A Survey of Multiple Criteria Evaluation Methods. 12. A Methodology for Selecting a Tailor-Made Multiple Criteria Method in Transportation Planning. Part E: Applications of Multicriteria Analysis in Transportation Planning. 13. Urban Infrastructure Planning and Historico-Cultural Heritage: an Application of a Qualitative Sign Analysis. 14. Rail Infrastructure Planning and Qualitative Information: an Application of Regime Analysis. 15. Airport Planning and Functional Specialization: an Application of a Nested Regime Method. 16. Location of Parking Facilities in an Historical Town: an Ex Post Multiple Criteria Evaluation. References.