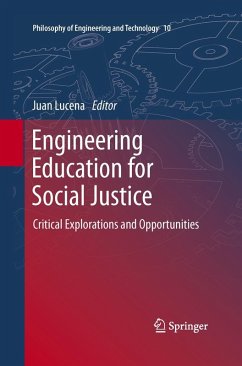 Andere Kunden interessierten sich
auch
für


This book aims to serve as a framework for interventions or strategies to make social justice more visible in engineering education and enhance scholarship in the emerging field of Engineering and Social Justice (ESJ). This creates a 'toolbox' for engineering educators and students to make social justice a central theme in engineering education.


Produktdetails
Philosophy of Engineering and Technology 10
Verlag: Springer / Springer Netherlands
Artikelnr. des Verlages: 978-94-007-9502-0
2013
Seitenzahl: 296
Erscheinungstermin: 24. Juni 2015
Englisch
Abmessung: 235mm x 155mm x 16mm
Gewicht: 453g
ISBN-13: 9789400795020
ISBN-10: 9400795025
Artikelnr.: 43001438
Chapter 1. Juan Lucena; Introduction.- Part I. Where Have We been? Where Can We Go? Chapter 2. Dean Nieusma; Engineering, Social Justice and Peace: Strategies for Educational and Professional Reform.- Chapter 3. Donna Riley; Power. Systems. Engineering. Travelling lines of Resistance in Academic Institutions.- Part II. Conceptual Contributions to ESJ.- Chapter 4. Erin Cech; The (Mis)Framing of Social Justice: Why Ideologies of Depoliticization and Meritocracy Hinder Engineers' Ability to Think About Social Injustices.- Chapter 5. Marisol Mercado-Santiago; What can Buddhism offer to a socially just engineering education?.- Chapter 6. Ryan Campbell; Caring in engineering: How can engineering students learn to care? How can engineering faculty teach to care?.- Part III. What gets in the way and how can ESJ live in the engineering classroom?.- Chapter 7. Caroline Baillie and Rita Armstrong; Crossing Knowledge Boundaries and Thresholds: Challenging the Dominant Discourse Within Engineering Education.- Chapter 8. Jen Schneider and Junko Munakata-Marr; Connecting the "Forgotten": Transportation Engineering, Poverty, and Social Justice in Sun Valley, Colorado.- Chapter 9. Jon Leydens; Integrating Social Justice into Engineering Education from the Margins: Guidelines for Addressing Sources of Faculty Resistance to Social Justice Education.- Part IV: What Social Justice place in the world of engineering practice has to offer to engineering education.- Chapter 10. Andres Valderrama; What can engineering systems teach us about social (in)justices? The case of public transportation systems.- Chapter 11. Richard Arias; Exceptional Engineering: Challenges and opportunities for socially just engineers in NGOs.-Chapter 12. Nicholas Sakellariou; A framework for social justice in Renewable Energy Engineering.- Chapter 13. Juan Lucena; Conclusion.