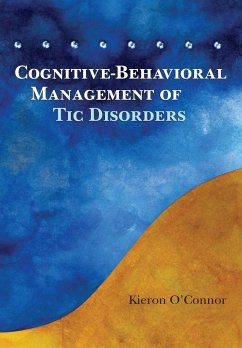 Andere Kunden interessierten sich
auch
für
Produktdetails
Verlag: Wiley & Sons
Seitenzahl: 326
Erscheinungstermin: 17. Mai 2005
Englisch
Abmessung: 244mm x 170mm x 17mm
Gewicht: 610g
ISBN-13: 9780470093801
ISBN-10: 0470093803
Artikelnr.: 14083316
About the Author. Preface. Acknowledgments. Chapter 1: The Nature of Tic Disorders. Definition. Diagnosis. What counts as a tic? Comorbidity and covariation. Secondary distress. Prevalence. Relationship of tics with other disruptive behaviors. Distinguishing impulsions and compulsions: sensory tics, cognitive tics and obsessions. Emotional associations. Self
management strategies. Coping strategies maintaining the tic cycle. Functional analysis and situational variability. Conclusions. Chapter 2: Understanding Tic Disorders: Etiological Models. Overview of neurobiological models. Neurophysiological studies. Neurobiological treatments. Genetic factors. Psychosocial factors. Neuropsychological aspects. Emotional regulation. Learning model. Psychological treatments. Behavioral approaches. Abbreviated versions of habit reversal. Other tension prevention and exposure techniques. Conclusions. Chapter 3: Motor Processing in Tic Disorders. Motor processing. Psychology of action. Tics as behavioral acts. Human ecology of action. Motor psychophysiology. Chronic muscle tension. The role of frustration in tic onset. Tic onset and muscle use: the frustration
action/tense
release cycle. Perfectionist styles of action. Heightened sensorimotor awareness. Dysregulation of motor activation cycle and sensory feedback mechanisms. A cognitive
behavioral/motorpsychophysiological model of tic disorder. Clinical implications. Conclusions. Chapter 4: Empirical Studies Testing the Cognitive
psychophysiological Model. Overview. Behavioral activity associated with tic onset in chronic tic and habit disorders. Validation of a style of planning action (STOP) as a discriminator between tic disorder, obsessive
compulsive disorder and generalized anxiety. Brain
behavior relations during motor processing in chronic tic and habit disorders. A cognitive
behavioral program for the management of chronic tic disorders. Does behavior therapy modify visuo
motor performance in chronic tic disorder? Conclusions. Chapter 5: Future Directions. The cognitive
behavioral/psychophysiological conceptualization of tic disorders. Implications for future research. The TS
OCD spectrum. Separating impulse from compulse: the case of cognitive tics. Adaptation of the program to children and to other groups with special needs. Application of the program to other tension problems. Chapter 6: Therapist Manual. Overview of the program. Assessment procedures. Ten
stage program. Session by session protocol. Trouble
shooting guide. Case illustrations. Chapter 7: Client Manual. Introduction: who is the manual for? About tics. A cognitive
behavioral management approach to changing habits. Overview of tic management model. Motivation. Mind over muscle. Awareness training. Identifying high
and low
risk activities, and associated thoughts and feelings. Muscle discrimination exercises. Relaxing in three dimensions. Refocusing sensations. Thinking in action. Rethinking your thinking. Beliefs relevant to planning action. Motor and behavioral restructuring. Maintaining the new behavior. Conclusions. Appendices. Appendix 1: Questionnaires 1a
1h. Appendix 2: Manual worksheets 2a
2j. Appendix 3: Cognitive tics: special Considerations. Appendix 4: Tic
monitoring diary. Appendix 5: Graphic examples from daily diaries. Appendix 6: Daily diary forms and questionnaire. Appendix 7: Tic quiz. Appendix 8: Follow
up questionnaire. Appendix 9: Answers to tic quiz. References. Index.