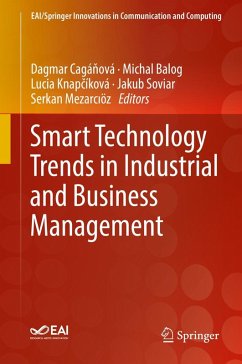 Andere Kunden interessierten sich
auch
für


Features contributions on a variety of topics related to smart cities from global researchers and professionals in a wide range of sectors;

Presents topics relating to smart cities such as manufacturing, business, and transportation;

Includes expanded selected papers from EAI International Conference on Management of Manufacturing Systems (MMS 2016), EAI Industry of Things and Future Technologies Conference - Mobility IoT 2016 and International Conference on Smart Electric Vehicles and Vehicular Ad-hoc NETworks (SEVNET).


Produktdetails
EAI/Springer Innovations in Communication and Computing
Artikelnr. des Verlages: 978-3-319-76997-4
1st ed. 2019
Erscheinungstermin: 1. März 2019
Englisch
Abmessung: 241mm x 160mm x 33mm
Gewicht: 940g
ISBN-13: 9783319769974
ISBN-10: 3319769979
Artikelnr.: 50889785
Chapter1: Designing Behavioral Changes in Smart Cities using Interactive Smart Spaces.- Chapter2: Industry 4.0: Preparation of Slovak Companies, the Comparative Study.- Chapter3: Transformations of urbanized landscape following the Smart Water Management concept.- Chapter4: Social Innovations in Context of Smart City.- Chapter5: Application of AHP Method in Decision-making Process.- Chapter6: Towards Creating Place Attachment and Social Communities in the SMART Cities.- Chapter7: A New Approach to Sustainable Reporting: Responsible Communication between Company and Stakeholders in Conditions of Slovak Food Industry.- Chapter8: An integrative spatial perspective on energy transition - renewable energy niches.- Chapter9: Can concept of smart governance help to mitigate the climate in the cities?.- Chapter10: Potential of Human Resources as Key Factor of Success of Innovation in Organisations.- Chapter11: Environmental Policy as a Competitive Advantage in the Global Environment.- Chapter12: Awareness of Malicious Behavior as a Part of Smart Transportation in Taxi Services.- Chapter13: Alternative lights for public transport in Smart Cities.- Chapter14: Green Markets and Their Role in the Sustainable Marketing Management.- Chapter15: Introduction to the International Conference on Management of Manufacturing Systems (MMS 2016).- Chapter16: Smart wristband system for improving quality of life for users in traffic environment.- Chapter17: Composites manufacturing: A new approaches to simulation.- Chapter18: Study of the cutting zone of the WPC composite materials after different types of cutting.- Chapter19: Quality assurance in the automotive industry and Industry 4.0.- Chapter20: RFID labels and its characteristics on labeled products.- Chapter21: Risk analysis causing downtimes in production process of hot rolling mill.- Chapter22: Evaluation of roughness parameters of machined surface of selected wood plastic composite.- Chapter23: Basic assumptions of information system for increasing competitiveness of production company within EU and their application at the CAPP system design.- Chapter24: Operational characteristics of experimental actuator with a drive based on the antagonistic pneumatic artificial muscles.- Chapter25: IoT challenge: older test machines modernization in an automotive plant.- Chapter26: Critical values of some probability distributions and standard numerical methods.- Chapter27: Measuring production process complexity.- Chapter28: Evaluation of the transverse roughness of the outer and inner surfaces of the thin-walled components produced by milling.- Chapter29: Smart transportation applications and vehicle data processing system for smart city buses.- Chapter30: Current Trends in Industrial and Business Management in Smart Technology.- Chapter31: Sustainable Organization of Cooperation Activities in a Company - Slovak republic research perspective.- Chapter32: Cooperation as a key element between Universities and Factories.- Chapter33: Zilina Intelligent Manufacturing System - best practice of cooperation between university and research center.- Chapter34: Cooperative relations and activities in a cluster in the Slovak and Czech automotive industry.- Chapter35: Model Approach for Formation Synergy Effects in Automotive Industry with Support of Big Data Solutions - application for distribution and transport service strategy.- Chapter36: Improvement of the production system based on the Kanban principle.