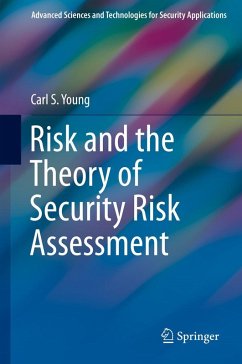 Risk and The Theory of Security Risk Assessment is a primer of security risk assessment pedagogy, but it also provides methods and metrics to actually estimate the magnitude of security risk. Concepts are explained using numerous examples, which are at times both enlightening and entertaining. As a result, the book bridges a longstanding gap between theory and practice, and therefore will be a useful reference to students, academics and security practitioners.


Produktdetails
Advanced Sciences and Technologies for Security Applications
Artikelnr. des Verlages: 978-3-030-30599-4
1st ed. 2019
Seitenzahl: 300
Erscheinungstermin: 29. Januar 2020
Englisch
Abmessung: 241mm x 160mm x 22mm
Gewicht: 604g
ISBN-13: 9783030305994
ISBN-10: 3030305996
Artikelnr.: 57291429
Part 1: Security Risk Assessment Fundamentals.- Definitions and Basic Concepts.- Risk Factors.- Threat Scenarios.- Risk, In Depth.- Part II: Quantitative Concepts and Methods.- The (Bare) Essentials of Probability and Statistics.- Identifying and/or Quantifying Risk-Relevance.- Risk Factor Measurements.- Elementary Stochastic Methods and Security Risk.- Part III: Security Risk Assessment and Management.- Threat Scenario Complexity.- Systemic Security Risk.- General Theoretical Results.- The Theory, in Practice.- Epilogue.- Appendices.
---