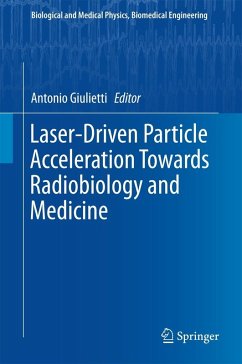 ---
Dieser Download kann aus rechtlichen Gründen nur mit Rechnungsadresse in A, B, BG, CY, CZ, D, DK, EW, E, FIN, F, GB, GR, HR, H, IRL, I, LT, L, LR, M, NL, PL, P, R, S, SLO, SK ausgeliefert werden.
Produktdetails
Erscheinungstermin: 04.05.2016
Englisch
ISBN-13: 9783319315638
Artikelnr.: 46924742
Part I Laser driven particle acceleration: From experiments to devices.- Ultra-intense lasers and particle acceleration: past, present and future.- Laser-plasma interactions and stable production of ultrashort relativistic electron bunches.- Proton acceleration: state of the art and perspectives.- Recent progress on laser-driven particle acceleration in China.- Multi-GeV regime of Laser-Wakefield dual-stage accelerator.- Dosimetry of pulsed particle sources.- Part II Biophysical studies with laser driven particle sources.- High-energy radiation femtochemistry.- High-dose rate exposure of biological matter.- Comparative radiobiological tests with RF versus Laser-driven electron bunches.- Ultrafast X-ray imaging of living cells.- Biological responses triggered by laser-driven sources (proton and X-ray).- Part III Synchrotron, ion accelerator and microbeam.- Synchrotron source: dosimetry and pre-clinical trials.- Microbeam radiation and biological responses.- Cyberniffe, dose fractioning for clinical protocols.- Protontherapy of cancer.- Ion radiotherapy: state of the art and future.