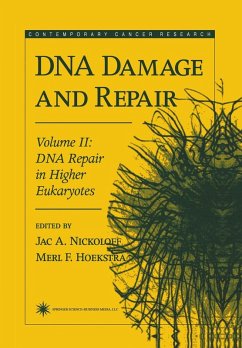 Andere Kunden interessierten sich
auch
für
Produktdetails
Contemporary Cancer Research
Verlag: Humana Press / Springer, Berlin
Softcover reprint of the original 1st ed. 1998
Erscheinungstermin: Juni 2014
Englisch
Abmessung: 254mm x 178mm x 34mm
Gewicht: 1230g
ISBN-13: 9781475750157
ISBN-10: 1475750153
Artikelnr.: 40779338
Overview, Philip Hanawalt . DNA Photolyases, Akira Yasui and André P. M. Eker . Cellular Responses to Methylation Damage, Russell O. Pieper . Exogenous Carcinogen-DNA Adducts and Their Repair in Mammalian Cells, Anthony Dipple and Leonora J. Lipinski . Nature of Lesions Formed by Ionizing Radiation, John F. Ward . Mammalian Enzymes for Preventing Mutations Caused by Oxidation of Guanine Nucleotides, Mutsuo Sekiguchi and Hiroshi Hayakawa .
Biochemistry of Mammalian DNA Mismatch Repair, A-Lien Liu . Short Patch Mismatch Repair in Mammalian Cells
Paola Gallinari, Petra Nedderman, and Josef Jiricny . Role of HMG and Other Proteins in Recognition of Cisplatin DNA Damage, Paul C. Billings and Edward N. Hughes .TFIIH: A Transcription Factor Involved in DNA Repair and Cell-Cycle Regulation, Vincent Moncollin, Paul Vichi, and Jean-Marc Egly . DNA Polymerase Involvement in DNA Repair, Samuel H. Wilson and Rakesh K. Singhal . Cellular Functions of Mammalian DNA Ligases, Alan E. Tompkinson, Jingwen Chen, Jeff Besterman,
and Intisar Husain . Modulations in Chromatin Structure During DNA Damage Formation and DNA Repair, Michael J. Smerdon and Fritz Thoma . Transcriptional Responses to Damage Created by Ionizing Radiation: Molecular Sensors
Thomas W. Davis, Mark Meyers, Carmell Wilson-Van Patten, Navneet Sharda, Chin-Rang Yang, Timothy J. Kinsella, and David A. Boothman . Posttranslational Mechanisms Leading to Mammalian Gene Activation in Response to Genotoxic Stress, Yusen Liu, Myriam Gorospe, Nikki J. Holbrook, and Carl W. Anderson . Mechanisms for DNA Double-Strand Break Repair in Eukaryotes, W. Kimryn Rathmell and Gilbert Chu . Mutant Rodent Cells Defective in DNA Double-Strand Break Repair,
Penny A. Jeggo .Nucleotide Excision Repair: Its Relation to Human Disease, Larry H. Thompson . Cellular Responses to DNA Damage and the Human Chromosome Instability Syndromes, KumKum Khanna, Richard Gatti, Patrick Concannon, Corry M. R. Weemaes, Merl F.Hoekstra, Martin Lavin, and Alan D'Andrea. Genetics of Mismatch Repair, Microsatellite Instability, and Cancer, Tom Prolla, Sean Baker, and R. Michael Liskay . Mammalian Cell-Cycle Responses to DNA-Damaging Agents, Roy Rowley . Poly(ADP-Ribose) Polymerase in Response to DNA Damage, Satadal Chatterjee and Nathan A. Berger. DNA Topoisomerases in DNA Repair and DNA Damage Tolerance, John L. Nitiss . Molecular Approaches for Detecting DNA Damage, Peggy L. Olive . Radiation-Induced Damage and the Formation of Chromosomal
Aberrations, Michael N. Cornforth . Whole Organism Responses to DNA Damage: Modulation by Cytokines
of Damage Induced by Ionizing Radiation, Ruth Neta and Scott K. Durum . DNA Damage and Repair in the Clinic,
David B. Mansur and Ralph R. Weichselbaum. Index.
". . .serves as a comprehensive introduction to the eukaryotic repair field. The book will be of particular value to researchers who are newly entering the field, especially molecular biologists who wish to gain a broader historical, biological and medical perspective. . .this book was in high demand by my laboratory as soon as the review copy arrived. By this test, it will be a worthwhile addition to the personal library of investigators with research interests in the area of DNA repair."-The Quarterly review of Biology