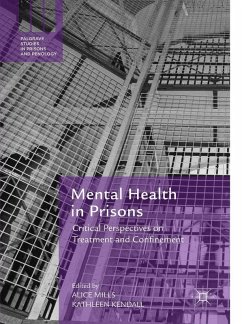 Andere Kunden interessierten sich
auch
für
Chapter 2 of this book is available open access under a CC BY 4.0 license via link.springer.com.
---
Dieser Download kann aus rechtlichen Gründen nur mit Rechnungsadresse in A, B, BG, CY, CZ, D, DK, EW, E, FIN, F, GB, GR, HR, H, IRL, I, LT, L, LR, M, NL, PL, P, R, S, SLO, SK ausgeliefert werden.
Produktdetails
Verlag: Springer-Verlag GmbH
Erscheinungstermin: 19.11.2018
Englisch
ISBN-13: 9783319940908
Artikelnr.: 54579224
Chapter 1. Introduction.- PART 1. Penal Power and the Psy Disciplines : Contextualising Mental Health and Imprisonment.- Chapter 2. 'We Are Recreating Bedlam': A History of Mental Illness and Prison Systems in England and Ireland; Catherine Cox and Hilary Marland.- Chapter 3. The Architecture of Psychiatry and the Architecture of Incarceration; Simon Cross and Yvonne Jewkes.- Chapter 4. Psychological Jurisprudence and the Relational Problems of De-vitalization and Finalization: Revisiting the Society of Captives Thesis; Bruce A. Arrigo and Brian G. Sellers.- PART 2. Care versus Custody.- Chapter 5. Care versus Custody: Challenges in the Provision of Prison Mental Healthcare; Alice Mills and Kathleen Kendall.- Chapter 6. How do New Psychoactive Substances Affect the Mental Health of Prisoners?; Hattie Moyes.- Chapter 7. 'There was no understanding, there was no care, there was no looking after me': The impact of the prison environment on the mental health of female prisoners; Anastasia Jablonska and Rosie Meek.- PART 3. Dividing Practices: Structural Violence, Mental health and Imprisonment.- Chapter 8. Institutions of Default and Management: Aboriginal Women with Mental and Cognitive Disability in Prison; Ruth McCausland, Elizabeth McEntyre and Eileen Baldry.- Chapter 9. Culture, Mental Illness, and Prison: A New Zealand Perspective; James Cavney and Susan Hatters Friedman.- Chapter10. 'Malignant Reality': Mental Ill-Health and Self-Inflicted Deaths in England and Wales; Joe Sim.- Chapter 11. Institutional Captives: US Women Trapped in the Medical / Correctional / Welfare Circuit; Maureen Norton-Hawk and Susan Sered.- Chapter 12. Queer and Trans Incarceration Distress: Considerations from a Mad Queer Abolitionist Perspective; Andrea Daley and Kim Radford.- PART 3. Alternative Penal Practices and Communities.- Chapter 13. A Sense of Belonging: The Walls to Bridges Educational Program as a Healing Space; Shoshana Pollack and Denise Edwards.- Chapter 14. Coping with incarceration: The emerging case for the utility of peer-support programs in prison; Christian Perrin.- Chapter 15. Conclusion; Kathleen Kendall and Alice Mills.