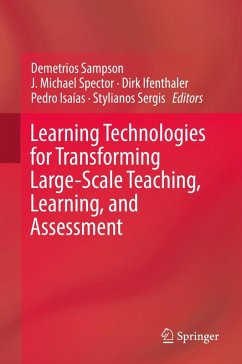 Andere Kunden interessierten sich
auch
für


The book showcases how emerging educational technologies and innovative practices have been used to address core global educational challenges. It provides state-of-the-art insights and case studies of exploiting innovative learning technologies, including Massive Open Online Courses and educational data analytics, to address key global challenges spanning from online Teacher Education to large-scale coding competence development. This volume will be of interest to academics and professional practitioners working in the area of digital technology integration in teaching, learning and assessment, as well as those interested in specific conference themes (e.g., designing and assessing learning in online environments, assessing learning in complex domains) and presenters, invited speakers, and participants of the CELDA conference.


Produktdetails
Artikelnr. des Verlages: 978-3-030-15129-4
1st ed. 2019
Erscheinungstermin: 25. Juni 2019
Englisch
Abmessung: 241mm x 160mm x 23mm
Gewicht: 645g
ISBN-13: 9783030151294
ISBN-10: 3030151298
Artikelnr.: 55116102
Part I: Teaching, Learning and Assessment at large-scale: Trends and Challenges.- Open Educational Resources: Educational Technology As A Driver For Educational Reform.- Emerging Trends in Online Teacher Education.- Professional Identity Development in Online Environments.- Divulging Personal Information Within Learning Analytics Systems.- Challenges Of Big Data In Educational Assessment.- Innovative Collaborative Learning Strategies For Integrated Interactive E-Learning In The 21st Century.- Part II: Analytics for Improving Learning Experiences.- Learning Analytics To Understand Cultural Impacts On Technology Enhanced Learning.- What Do Learners' Online Interaction Data Imply?.- Comparing Learner Community Behavior In Multiple Presentations Of A Massive Open Online Course.- Hadjerrouit, S. Evaluating The Interactive Learning Tool Simreal+ For Visualizing And Simulating Mathematical Concepts.- Participation And Achievement In Enterprise MOOCs For Professional Learning.- Online Learners' Navigational Patterns Based On Data Mining In Terms Of Learning Achievement.- Part III: Analytics for Personalizing Teaching and Assessment.- Supporting Development of Students' Coding Competences with Teaching and Learning Analytics.- Purposeful Exploratory Learning with Video Using Analysis Categories.- Widening And Deepening Questions In Web-Based Investigative Learning.- The Impact Of Middle-School Students' Feedback Choices And Performance On Their Feedback Memory.- Cache-Cache Comparison For Supporting Meaningful Learning.- E-Learning In Chemistry Education: Self-Regulated Learning In A Virtual Classroom.- Concluding Remarks.- Learning Technologies for Transforming Large-Scale Teaching, Learning and Assessment - A Synthesis and a Look Forward.