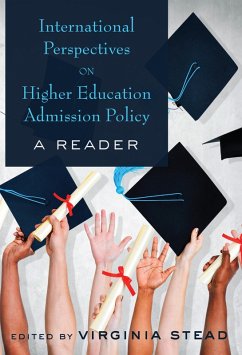 Andere Kunden interessierten sich
auch
für
(1) National Perspectives on Higher Education Admission Policy;
(2) Theoretical Approaches to Higher Education Admission Policy;
(3) Applicant Recruitment and Student Support Services in Higher Education; and
(4) Diversity and Equity in Higher Education Admission Policy Implementation.
This book's global chorus of professional experience, investigation, and insight is unprecedented in its breadth and depth, illuminating a rare swath of challenges and opportunities that Internet-sourced international higher education makes visible. Although each chapter is an independent research report, together they generate a new landscape for admission policy orientation, exploration, and activism. The sheer range of policies and organizational infrastructure will alert all readers to many complexities within the admissions process that remain invisible within single or multiple but similar cultural and political contexts.
Many of these authors have demonstrated courage along with their intellectual acumen in tackling politically sensitive, culturally taboo, and personally dangerous topics within their research. Theirs is a moving testimony to the global quest for fairness within the world of admission policy implementation and to the power of access to higher education. Together, we are determined to advance equitable admissions praxis within all institutions of higher learning and promising futures for all students.
---
Dieser Download kann aus rechtlichen Gründen nur mit Rechnungsadresse in A, D ausgeliefert werden.
Produktdetails
Verlag: Peter Lang
Seitenzahl: 441
Erscheinungstermin: 1. August 2013
Englisch
ISBN-13: 9781454199960
Artikelnr.: 53502695
Contents: Virginia Stead: Preface ... and a Call to Action - Justina Judy/Christina Mazuca Ebmeyer/Barbara Schneide: Solving the U.S. College Admissions Mismatch Process: The Importance of High School Norms and Values - Rituparna Das: Higher Education Admission Policy and Practices in India - Vilmos Vass: From Policy to Action under Hungary's Accountability Paradigm: Trends and Processes in Teacher Training - Charl C. C. Wolhuter: Between Social and Academic Considerations: Admission Policies of South African Universities - Patrick Geoghegan: The Irish Experiment: Undergraduate Admissions for the Twenty-First Century - Neda Asadi: Iran's Brain Drain: University Admission Policy and the Flight of Intellectual Capital - Hafiz Muhammad Iqbal: The Case of Pakistan: Higher Education Admission Policy and Practice - Liu Baocun/Zhuang Tengteng: A Review of Enrollment System Reforms and Prospects for Chinese Higher Education Institutions - Ricardo Cuenca: Higher Education for Latin America: Two Challenges in a Field of Opportunities - Ilya Prakhov/Maria Yudkevich: Admission Policy in Contemporary Russia: Recent Changes, Expected Outcomes, and Potential Winners - Julie R. Posselt: Applicant Evaluation as Admissions Practice: A Sociocognitive Framework of Faculty Judgment in American Doctoral Admissions - Leoncio Vega Gil/Juan Carlos Hernández Beltrán: Spain and France: Moving from Democratization towards Elitism in Access to Higher Education - Linda Sue Warner: North American Native Ways of Knowing: Linking Indigenous Theory and Practice within Higher Education Admissions - Anna Mountford-Zimdars: Who Is the Best Candidate? Selecting Students in Competitive UK Admissions Contexts - Shannon Samson: Undergraduate College Choice Theory Applied to Graduate Student Needs - Dongmei Li: Place Matters: Undergraduate Admission Policy in Mainland PR China - Brent Evans: College Admission Tests: An Ohio Perspective - Michael Cottrell/Michelle Prytula/Paul Orlowski: A Longitudinal Study of Admissions to the Undergraduate College of Education, University of Saskatchewan, Canada - Zehra Altinay Gazi/Fahriye Altinay Aksal: Turkish Learning Organizations and Internet Technology (IT): Sources of Quality Strategies in Higher Education Admission - Grant H. Blume: Undergraduate Admissions as U.S. Public Policy - Rosalind Latiner Raby/Edward J. Valeau: Open-Access Policies at Community College Global Counterparts - Pietro A. Sasso/Jose Maldonado: The Effectiveness of U.S. Summer Bridge Programs in Supporting Minority Student College Admissions - Michael T. Dooney/Eunyoung Kim: Social Media, Recruitment, and U.S. College Admissions - Guillaume Albert: Rethinking Meritocracy in Japan: Diversification of University Entrance Procedures - Douglas Aparecido de Campos/Maria Aparecida Mello: Student Access and Retention in Brazilian Higher Education: Reflections and Commentary on Public Federal Universities - Donald Mitchell Jr./Elizabeth Daniele: Diversity in American Graduate Education Admissions: Twenty-First-Century Challenges and Opportunities - Christopher DeLuca: Rethinking the Evaluation of University Admission Policy and Practice: A Canadian Neoinstitutional Perspective - Mariam Orkodashvili: Higher Education Access Policies in the Post-Soviet Region: Standardization, Testing, and Corruption - Steven Jones: Nonacademic Indicators in UK Higher Education Admissions: A Case Study of the Personal Statement - David Andrew Turner: Credit Accumulation and Transfer in UK Admission Policy - Laura C. Lane/Gareth Parry: Contextual Higher Education Admissions as UK Affirmative Action: A Conceptual and Policy Analysis - Virginia Stead: