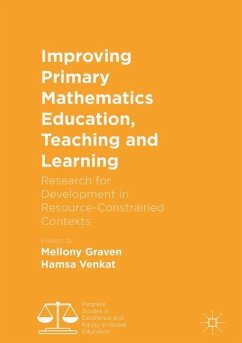 Produktdetails
Palgrave Studies in Excellence and Equity in Global Education
Artikelnr. des Verlages: 978-1-137-52979-4
1st ed. 2017
Seitenzahl: 292
Erscheinungstermin: 26. Januar 2017
Englisch
Abmessung: 218mm x 154mm x 25mm
ISBN-13: 9781137529794
ISBN-10: 1137529792
Artikelnr.: 44838259
SECTION I: INTERVENTIONS FOR QUALITY AND EQUITY IN PRIMARY EDUCATION.- Chapter 1. Intervening in Contexts of Poverty; Jill Adler .- Chapter 2. Theorising the Primary Mathematics Landscape in Contexts of Poverty; Mellony Graven and Hamsa Venkat .- SECTION II: ASSESSING NUMERACY PROGRESSION IN RESOURCE CONSTRAINED CONTEXTS.- Chapter 3. Using Assessments to Explore Early and Later Performance in Mathematics; Marie Weitz and Hamsa Venkat.- Chapter 4. Researching the Nature of Early Numeracy Progression in After School Clubs; Debbie Stott.- Chapter 5. Adapting Aspects of the Mathematics Recovery programme for use in various South African contexts; Debbie Stott, Zanele Mofu & Siviwe Ndongeni.- SECTION III: UNDERSTANDING LANGUAGE ISSUES IN PRIMARY MATHEMATICS TEACHING, LEARNING AND ASSESSMENT.- Chapter 7. Using an Adapted Model of Reciprocal Teaching to Help Children Unpack their Word Sums; Melissa Spira & Sally-Ann Robertson.- Chapter 8. Language in Early Number Learning in South Africa: Linking Transparency and Explicitness; Manono Mdluli.- Chapter 9. Learners Exemplifying for Themselves: Grade 2's Telling Additive Relations Stories; Nicky Roberts.- Chapter 10. Do the Annual National Assessments in Mathematics Unfairly Assess English Language Competence at the Expense of Mathematical Competence?; Lucy Sibanda.- SECTION IV: SUPPORTING CHANGE IN PRIMARY MATHEMATICS TEACHING.- Chapter 11. Changing Tteaching through a Resources Approach; Hamsa Venkat and Mellony Graven.- Chapter 12. From Theory to Practice: Challenges in Adopting Pedagogies of Mathematizing in South Africa; Thulelah Thakane, Herman Tshesane and Mike Askew.- Chapter 13. Characterizing Responsive Primary Mathematics Teaching in the South African Context; Lawan Abdulhamid.- Chapter 14. Key Aspects of Communities of Practice that Enable Primary Maths Teacher Learning; Peter Pausigere.