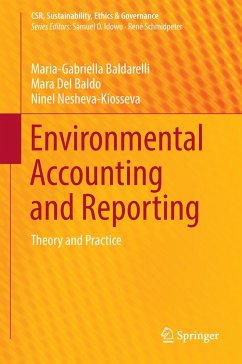 This book discusses the foundations of social and environmental accounting and highlights local differences in countries like Italy and Bulgaria. It also describes the institutional environment, which affects the development and application of environmental accounting and reporting, as a basis for evaluating current achievements and the future steps that need to be taken to develop and spread environmental accounting. The book is unique in presenting exemplary cases from different emerging and developed countries. It is a valuable resource for theorists in the field, practitioners in companies, as well as investors and other stakeholders. Moreover, it provides students with the necessary theoretical constructs, empirical studies as well as practical and managerial tools to allow for a quick orientation in the methodology, techniques and selected practices used in environmental accounting and reporting.
Produktdetails
CSR, Sustainability, Ethics & Governance
Artikelnr. des Verlages: .978-3-319-50916-7, 978-3-319-50916-7
1st ed. 2017
Erscheinungstermin: April 2017
Englisch
Abmessung: 241mm x 161mm x 30mm
Gewicht: 798g
ISBN-13: 9783319509167
ISBN-10: 3319509160
Artikelnr.: 47011382
New Challenges for the enterprise in the age of "sustainable modernity".- Environmental accounting: conceptual framework.- Measurement and Communication of Environmental variable.- Toward the future perspectives of integrated measurement and communication.- Some tools and standards for reporting.- Case-studies and best practices: The case of ENI- Sustainability and Integrated Report and BoxMarche's Global Report.- Case-studies and best practices: reading the SGR sustainability reporting in Italy and in Bulgaria using institutional theory.- Case-studies and best practices: VERSO Project model and implementation to Small Quality Hotels- Rimini-Italy.- Case-studies and best practices: The case CASIO COMPUTER CO. LTD.