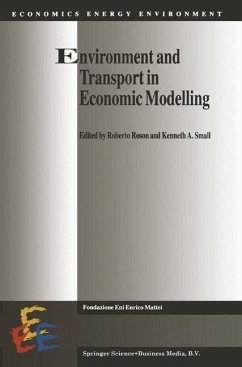 Andere Kunden interessierten sich
auch
für

Case studies are used to show how simulation models can be designed and used to quantify the effectiveness of economic policies in terms of transport systems management and environmental protection, the emphasis being on the role of the markets in tracing the many effects that policies have, both anticipated and otherwise.
Produktdetails
Economics, Energy and Environment 10
Verlag: Springer / Springer Netherlands
Artikelnr. des Verlages: 978-90-481-4983-4
Softcover reprint of hardcover 1st ed. 1998
Seitenzahl: 244
Erscheinungstermin: 8. Dezember 2010
Englisch
Abmessung: 235mm x 155mm x 13mm
Gewicht: 376g
ISBN-13: 9789048149834
ISBN-10: 9048149835
Artikelnr.: 32104854
Introduction: Modelling Environment and Transport; R. Roson, K. Small. Optimal Pricing and Regulation of Transport Externalities: A Welfare Comparison of Some Policy Alternatives; B. De Borger, D. Swysen. Revealed Preferences, Externalities and Optimal Pricing for Urban Transportation; R. Roson. Environmental Effects and Scale Economies in Transport Modelling: Some Results for the UK; J. Peirson, R. Vickerman. Carbon Emissions and the Economic Costs of Transport Policy in Sweden; G. Harrison, B. Kriström. Evaluating External Costs and Benefits Resulting from a Cleaner Environment in a Stylised CGE Model; G. Pireddu. Economic Incentive Policies Under Uncertainty: The Case of Vehicle Emission Fees; W. Harrington, et al. Forecasting the Environmental Effects of Road Pricing in London; J. Bates. Optimal Speed Limits for Various Types of Roads: a Social Cost-Benefit Analysis for the Netherlands; P. Rietveld, et al.