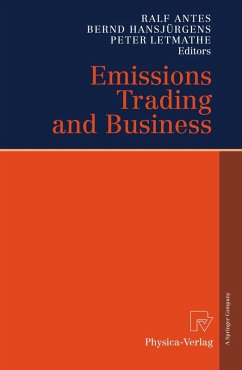 Produktdetails
Verlag: Physica-Verlag
Artikelnr. des Verlages: 11799672
2006
Seitenzahl: 416
Erscheinungstermin: 14. September 2006
Englisch
Abmessung: 241mm x 160mm x 27mm
Gewicht: 801g
ISBN-13: 9783790817478
ISBN-10: 3790817473
Artikelnr.: 20879593
Institutional design, decision making and innovation.- Abatement costs vs. compliance costs in multi-period emissions trading - the firms' perspective.- Generous allocation and a ban on banking - implications of a simulation game for EU emissions trading.- Emissions trading and innovation in the German electricity industry - impact of possible design options for an emissions trading scheme on innovation strategies in the German electricity industry.- A dynamic game of technology diffusion under emissions trading: an experiment.- Sustainability entrepreneurship in the context of emissions trading.- Investment and management strategies under emissions trading.- Optimal strategies for emissions trading in a Putty-Clay Vintage Model.- Strategic production management of companies participating in the European greenhouse gas emission allowance trading scheme.- Decision making in the emissions-market under uncertainty.- The impact of climate policy on heat and power capacity investment decisions.- Implications of the European emissions trading scheme for strategic energy management in small and medium enterprises.- Management and optimization of environmental data within emissions trading markets - VEREGISTER and TEMPI.- Emissions trading with changing future commitments - some initial thoughts.- Emissions trading and business administration.- Emission Trading North - important findings from a business perspective.- Corporate greenhouse gas management in the context of emissions trading regimes.- Accounting for emission rights.- The role of stakeholder driven corporate governance - the example of BP's climate change strategy.- Emissions trading and effects on financial markets.- Effects of emissions trading schemes existing and being implemented.- The EU emissions trading scheme and its competitiveness effects upon European business - results from the CGE model DART.- Implementing the EU emissions trading directive in Spain: a comparative study of corporate concerns and strategies in different industrial sectors.- UK's climate change levy and emissions trading scheme: implications for businesses' productivity and economic efficiency.- The sources of emission reductions: evidence from U.S. SO2 emissions from 1985 through 2002.- Policy-business interaction in emissions trading between multiple regions.- The changing role of the project mechanisms in emissions trading.- Prevailing technologies and locations of CDM projects: the current situation compared with expectations.
From the reviews:

"This book is an intellectual exchange between two disciplines, economics and business/management studies ... . An interesting book for economists working with emissions trading schemes or for environmentalist which want to know more about the economical factors involved in emissions trading schemes." (European Circular, Issue 33, Winter 2008-2009)