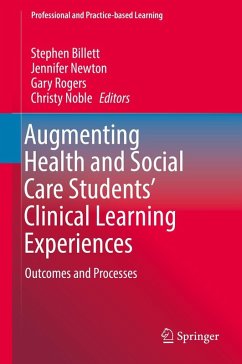 Andere Kunden interessierten sich
auch
für
---
Dieser Download kann aus rechtlichen Gründen nur mit Rechnungsadresse in A, B, BG, CY, CZ, D, DK, EW, E, FIN, F, GB, GR, HR, H, IRL, I, LT, L, LR, M, NL, PL, P, R, S, SLO, SK ausgeliefert werden.
Produktdetails
Verlag: Springer-Verlag GmbH
Erscheinungstermin: 25.02.2019
Englisch
ISBN-13: 9783030055608
Artikelnr.: 55340177
Section One: Augmenting post-practicum experiences.- 1: Augmenting post-practicum experiences: Purposes and practices; Stephen Billett.- 2: Sharing stories and building resilience: Students preferences and processes of post-practicum interventions; Melissa Cain, Anh Hai Le, and Stephen Billett.- Section Two: Post-Practicum curriculum and pedagogies .- 3: implementation and evaluation of the post-practicum clinical reasoning oral exam, Tracy Levett, Helen Courtney-Pratt, Natalie Govind.- 4: Utilising a post-placement critical assessment task to consolidate interprofessional learning; Gary D. Rogers, Michelle Parker-Tomlin, Kelly Clanchy, James Townshend, and Pit Cheng Chan.- 5: Clinician Peer Exchange Groups (C-PEGs): Augmenting medical students' learning on clinical placement; Julia Harrison, Elizabeth Molloy, Margaret Bearman, Chee Yan Ting, Michelle Leech.- 6: Post-practicum strategies to translate clinical experience to attributes of employability - Responding to graduate selection criteria; Garry Kirwan, Neil Tuttle, Benjamin Weeks and E-Liisa Laakso.- 7: The continuity of care experience and reflective writing: enhancing post-practicum learning for midwifery students; Linda Sweet, Kristen Graham, Janice Bass.- 8: Using learning circles to develop intersubjectivity; Laurie Grealish Lyn Armit, Thea van de Mortel, Stephen Billett, Julie Shaw, Valda Frommolt, Creina Mitchell, Marion Mitchell.- 9: Consolidating clinical learning through post-rotation small group activities; Carole Steketee, Niamh Keane and Katharine Gardiner; University of Notre Dame, Australia.- Section Three: Processes of Feedback and Debriefing.- 10: Bouncing Forward: A Post-practicum workshop to promote professional identity, self-efficacy, and resilience in Master of Speech Pathology students; Elizabeth Cardell, Andrea Bialocerkowski.- 11: Facilitating students' reflections on community practice: a new approach; Jennifer M. Newton, Ashleigh E. Butler.- 12: The reflective debrief: Using students placement experiences to enrich understandings of distinct kinds of nutrition and dietetics practice, Lauren T. Williams, Lynda Ross, Lana Mitchell, Katherine Markwell.- 13: Enhancing feedback literacy in the workplace: A Learner-centred approach; Christy Noble, Christine Sly, Leigh Collier, Lyn Armit, Joanne Hilder, Elizabeth Molloy.- 14: Integrating a Career Development Learning Framework into Work-Integrated Learning Practicum Debrief Sessions, K. Clanchy, S. Sabapathy, G. Reddan, N. Reeves; A. Bialocerkowski.- Section Four Summaries and syntheses: Towards models of effective practice.- 15: Curriculum and pedagogic principles and practices for implementing post-practicum interventions, Stephen Billett.- 16: The Challenges of Implementing Post-Practicum Initiatives; Janice Orrell.- Index.