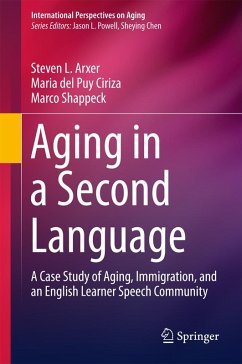 Andere Kunden interessierten sich
auch
für
Included in the coverage:
Minority aging in an immigrant context.

Late-life second language acquisition: cognitive and psycholinguistic changes, challenges, and opportunities.

Building emotions for self-identity and learning.

Practicing safe language socialization in private and public spaces.

Language resocialization and gender allies.

Aging, second language acquisition, and health.

Aging in a Second Language
gives clinical social workers, gerontologists, health and cross-cultural psychologists, sociologists, educators and other professionals deep insights into the lives of an emerging active elder population. It also pinpoints challenges and opportunities in research, literacy program design, pedagogy, clinical outreach, education policy, and service delivery to immigrant elders.
Produktdetails
International Perspectives on Aging .17
Artikelnr. des Verlages: 978-3-319-57608-4
1st ed. 2017
Seitenzahl: 164
Erscheinungstermin: 8. Juni 2017
Englisch
Abmessung: 241mm x 160mm x 15mm
Gewicht: 415g
ISBN-13: 9783319576084
ISBN-10: 3319576089
Artikelnr.: 47848182
Introduction.- Aging as a Hispanic in a Second or Foreign Language .- Aging among Hispanic immigrants: risks and challenges.- The language effect and immigrant aging well-being.- Applied Linguistics and Contextualizing Older Hispanic Language Acquisition. - Social constructivism and the role of place for immigrant language learners.- Dallas area case study on older immigrant English second language learners.- Aging in Place: The Restructuring of Formal and Informal Immigrant Arrangements .- Building emotions for self-identity and learning.- Family and social networks.- Practicing public socialization in safe places: work education and health.- Language resocialization and gender allies.- Conclusion.
---