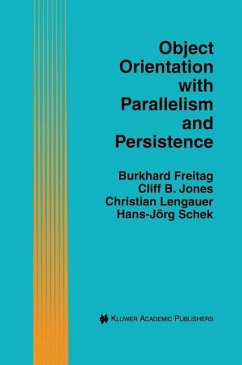 Andere Kunden interessierten sich
auch
für

The two areas of computing science in which these paradigms play the most prominent role are programming languages and databases. In programming languages, one can take an academic approach with a primary focus on the generality of the semantics of the language constructs which support the respective paradigm. In databases, one is willing to restrict the power of the constructs in the interest of increased efficiency.
Inter- and intra-object parallelism have received an increasing amount of attention in the last few years by researchers in the area of object- oriented programming. At first glance, an object is very similar to a process which offers services to other processes and demands services from them. It has, however, transpired that object-oriented concepts cause problems when combined with parallelism. In programming languages, the introduction of parallelism and the synchronization constraints it brings with it can get in the way of code reusability. In databases, the combination of object orientation and parallelism requires, for example, a generalization of the transaction model, new approaches to the specification of information systems, an implementation model of object communication, and the design of an overall system architecture.
There has been insufficient communication between researchers in programming languages and in databases on these issues. Object Orientation with Parallelism and Persistence grew out of a Dagstuhl Seminar of the same title in April 1995 whose goal it was to put the new research area `object orientation with parallelism' on an interdisciplinary basis.
Object Orientation with Parallelism and Persistence will be of interest to researchers and professionals working in software engineering, programming languages, and database systems.
Produktdetails
The Springer International Series in Engineering and Computer Science .370
Verlag: Springer, Berlin
Softcover reprint of the original 1st ed. 1996
Seitenzahl: 252
Erscheinungstermin: 27. September 2011
Englisch
Abmessung: 235mm x 155mm x 13mm
Gewicht: 388g
ISBN-13: 9781461286257
ISBN-10: 1461286255
Artikelnr.: 36118661
Preface. 1. Non-Interference Properties of a Concurrent Object-Based Language: Proofs Based on an Operational Semantics; S.J. Hodges, C.B. Jones. 2. Correct Transformational Design of Concurrent Search Structures; U. Nestmann, M. Steffen. 3. Modal-mu-Maude: Specification and Properties of Concurrent Objects; U. Lechner, C. Lengauer. 4. An Object Model for Distributed and Concurrent Programming Based on Decomposition; M. Radestock, S. Eisenbach. 5. Objects and Classes, Co-Algebraically; B. Jacobs. 6. Semantic Refinement of Concurrent Object Systems Based on Serializability; G. Denker. 7. Unified Theory for Classical and Advanced Transaction Models; H. Hasse, H.-J. Schek. 8. Coordination as Negotiated Transactions; J.-M. Andreoli. 9. Role-Based Persistence; J. Schlegelmilch. 10. Design and Implementation of Process-Oriented Environments with Brokers and Services; D. Tombros, et al. 11. There's Nothing Like Shared Nothing; P. Thanisch, M.G. Norman.