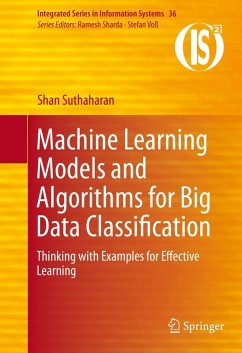 Produktdetails
Integrated Series in Information Systems Vol.36
Verlag: Springer, Berlin
Artikelnr. des Verlages: 978-1-4899-7640-6
1st ed. 2016
Erscheinungstermin: November 2015
Englisch
Abmessung: 247mm x 167mm x 27mm
Gewicht: 725g
ISBN-13: 9781489976406
ISBN-10: 148997640X
Artikelnr.: 43231974
Science of Information.- Part I Understanding Big Data.- Big Data Essentials.- Big Data Analytics.- Part II Understanding Big Data Systems.- Distributed File System.- MapReduce Programming Platform.- Part III Understanding Machine Learning.- Modeling and Algorithms.- Supervised Learning Models.- Supervised Learning Algorithms.- Support Vector Machine.- Decision Tree Learning.- Part IV Understanding Scaling-Up Machine Learning.- Random Forest Learning.- Deep Learning Models.- Chandelier Decision Tree.- Dimensionality Reduction.
"It provides a readable, technical, description of the whole area of machine learning applied on big data that can be understood and enjoyed by students and researchers from many areas of computer science, statistics, biology and chemistry who are seeking to understand how these new technologies can benefit their special areas. ... Overall, this is an excellent introduction to the main ideas for using machine learning algorithms for big data classification." (Smaranda Belciug, zbMATH 1409.68004, 2019)

"This book is a good introduction to machine learning models for big data classification ... . Typical of a Springer book, this one is concise, clear, and well organized. ... each chapter contains programming examples and references ... . this book is useful if you want to know more about machine learning models and algorithms for big data classification." (J. Myerson, Computing Reviews, February, 2016)