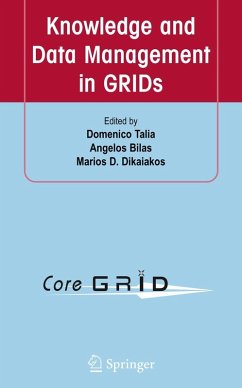 Andere Kunden interessierten sich
auch
für

Knowledge and Data Management in GRIDs is the third volume of the CoreGRID series and brings together scientific contributions by researchers and scientists working on storage, data, and knowledge management in GRID and Peer-to-Peer systems. This volume presents the latest GRID solutions and research results in key areas of knowledge and data management such as distributed storage management, GRID databases, Semantic GRID and GRID-aware data mining.
Knowledge and Data Management in GRIDs is designed for a professional audience, composed of researchers and practitioners in industry. This book is also suitable for graduate-level students in computer science.
Produktdetails
Softcover reprint of hardcover 1st ed. 2007
Seitenzahl: 272
Erscheinungstermin: 29. Oktober 2010
Englisch
Abmessung: 235mm x 155mm x 14mm
Gewicht: 416g
ISBN-13: 9781441942524
ISBN-10: 1441942521
Artikelnr.: 32134865
Grid Data Management.- Accessing Data in Grids Using OGSA-DAI.- Service Choreography for Data Integration on the Grid.- Accessing Web Databases Using OGSA-DAI in BDWorld.- Failure Recovery Alternatives in Grid-Based Distributed Query Processing: A Case Study.- Grid Data Storage.- Conductor: Support for Autonomous Configuration of Storage Systems.- Violin: A Framework for Extensible Block-Level Storage.- Clusterix Data Management System (CDMS) - Architecture and use Cases.- Semantic Grid.- Architectural Patterns for the Semantic Grid.- A Metadata Model for the Discovery and Exploitation of Scientific Studies.- Ideas for the Provision of Ontology Access in Grid Environments.- Semantic Support for Meta-Scheduling in Grids.- Semantic Grid Resource Discovery in Atlas.- Distributed Data Mining.- Wsrf-Based Services for Distributed Data Mining.- Mining Frequent Closed Itemsets from Distributed Repositories.- Distributed Data Mining and Knowledge Management with Networks of Sensor Arrays.
From the reviews:

"This edited book is an early attempt by primarily European researchers to harness and expand the use of grid technologies in accessing distributed sources for sharing, and also to extract and produce knowledge. ... Overall, the book is well organized and the selected material represents a very interesting range of topics. The expected audience is academics with interests in distributed systems and databases, or grid practitioners who are interested in extending grid technologies to knowledge extraction management and data manipulation." (George Dimitoglou, Computing Reviews, January, 2008)