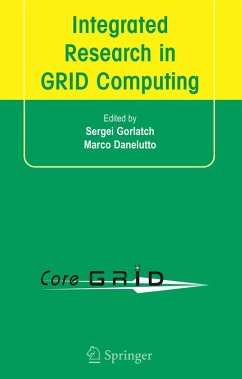 Andere Kunden interessierten sich
auch
für

The aim of CoreGRID is to strengthen and advance scientific and technological excellence in the area of Grid and Peer-to-Peer technologies in order to overcome the current fragmentation and duplication of effort in this area. To achieve this objective, the workshop brought together a critical mass of well-established researchers (including 145 permanent researchers and 171 PhD students) from a number of institutions which have all constructed an ambitious joint program of activities. Priority in the workshop was given to work conducted in collaboration between partners from different research institutions and to promising research proposals that could foster such collaboration in the future.
The list of topics in this volume includes:
- Knowledge and Data Management
- Programming Models
- System Architecture
- Grid Information, Resource and Workflow Monitoring Services
- Resource Management and Scheduling
- Systems, Tools and Environments
- Trust and Security Issues on the Grid.
Produktdetails
Softcover reprint of hardcover 1st ed. 2007
Seitenzahl: 304
Erscheinungstermin: 4. November 2010
Englisch
Abmessung: 235mm x 155mm x 16mm
Gewicht: 463g
ISBN-13: 9781441942937
ISBN-10: 1441942939
Artikelnr.: 32110318
Foreword.- Data Integration and Query Reformulation in Service-Based Grids.- Towards a Common Deployment Model for Grid Systems.- Towards Automatic Creation of Web Services for Grid Component Composition.- Adaptable Parallel Components for Grid Programming.- Skeleton Parallel Programming and Parallel Objects.- Towards the Automatic Mapping of ASSIST Applications for the Grid.- An Abstract Schema Modeling Adaptivity Management.- A Feedback-Based Approach.- Fault-Injection and Dependability Benchmarking.- User Managemetn for Virtual Organizations.- On the Integration of Passive and Active Netowork Monitoring in Grid Systems.- New Grid Monitoring Infrastructures.- Towards Semantics-Based Resource Discovery for the Grid.- Scheduling Workflows with Budget Constraints.- Integration of ISS into the VIOLA Meta-Scheduling Environment.- Multi-Criteria Grid Resource Management Using Performance Prediction.- A Proposal for a Generic Grid Scheduling Architecture.- GRID Superscalar Enabled P-GRADE Portal.- Redesigning the SEGL PSE: A Case Study of Using Mediator Components.- Synthetic Grid Workloads with Ibis, KOALA, and GrenchMark.- Author Index.