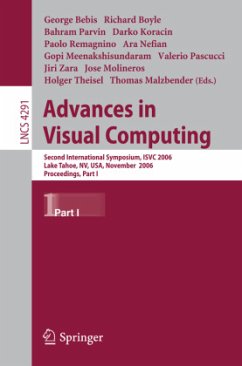 Andere Kunden interessierten sich
auch
für


The 65 revised full papers and 56 poster papers presented together with 57 papers of ten special tracks were carefully reviewed and selected from more than 280 submissions. The papers cover the four main areas of visual computing.


Produktdetails
Lecture Notes in Computer Science 4291
Verlag: Springer, Berlin
Artikelnr. des Verlages: 11919476
2006. 2006
Erscheinungstermin: 26. Oktober 2006
Englisch
Abmessung: 240mm x 154mm x 32mm
Gewicht: 1208g
ISBN-13: 9783540486282
ISBN-10: 3540486283
Artikelnr.: 20946541
Activity Recognition Via Classification Constrained Diffusion Maps.- Generating and Updating Textures for a Large-Scale Environment.- Planar Surface Detection in Image Pairs Using Homographic Constraints.- Robust Quality-Scalable Transmission of JPEG2000 Images over Wireless Channels Using LDPC Codes.- A Novelty Detection Approach for Foreground Region Detection in Videos with Quasi-stationary Backgrounds.- Procedural Image Processing for Visualization.- Tracking of Individuals in Very Long Video Sequences.- A Natural Interface for Sign Language Mathematics.- A Novel Gait Recognition Method Via Fusing Shape and Kinematics Features.- Illumination Normalization for Color Face Images.- Real-Time Detection of Out-of-Plane Objects in Stereo Vision.- Stereo Imaging with Uncalibrated Camera.- Global Hand Pose Estimation by Multiple Camera Ellipse Tracking.- Vision-Based Self-localization of Autonomous Guided Vehicle Using Landmarks of Colored Pentagons.- An Automated System for Contact Lens Inspection.- Efficient Motion Search in Large Motion Capture Databases.- Real-Time Rendering of Light Shafts on GPU.- Learning the Stylistic Similarity Between Human Motions.- Effects of Layer Partitioning in Collaborative 3D Visualizations.- GPU-Based Active Contour Segmentation Using Gradient Vector Flow.- Active Single Landmark Based Global Localization of Autonomous Mobile Robots.- Iterative Estimation of 3D Transformations for Object Alignment.- Temporal Alignment of Time Varying MRI Datasets for High Resolution Medical Visualization.- Physically Interacting with Four Dimensions.- Low Level Moving-Feature Extraction Via Heat Flow Analogy.- Shape Tracking and Registration for 4D Visualization of MRI and Structure.- History Trees as Descriptors of Macromolecular Structures.- Fusing Features in Direct Volume Rendered Images.- Binocular Uncalibrated Photometric Stereo.- Empirical Evaluation of a Visual Interface for Exploring Message Boards.- Direct Estimation of the Stereo Geometry from Monocular Normal Flows.- Singular Value Decomposition-Based Illumination Compensation in Video.- Facial Expression Transformations for Expression-Invariant Face Recognition.- A High-Speed Parallel Architecture for Stereo Matching.- Light Simulation in a Distributed Driving Simulator.- Self-adaptive RBF Neural Networks for Face Recognition.- An Improved Representation of Junctions Through Asymmetric Tensor Diffusion.- Accurate Extraction of Reciprocal Space Information from Transmission Electron Microscopy Images.- GPU Accelerated Isosurface Extraction on Tetrahedral Grids.- Enhancing Information on Large Scenes by Mixing Renderings.- Auto-focusing in Extreme Zoom Surveillance: A System Approach with Application to Faces.- Trifocal Transfer Based Novel View Synthesis for Micromanipulation.- Simulation of Diabetic Retinopathy Neovascularization in Color Digital Fundus Images.- Mesh Optimisation Using Edge Information in Feature-Based Surface Reconstruction.- Finite Sample Bias of Robust Scale Estimators in Computer Vision Problems.- Flexible Segmentation and Smoothing of DT-MRI Fields Through a Customizable Structure Tensor.- Using Visualizations to Support Design and Debugging in Virtual Reality.- Strategies for Part-Based Shape Analysis Using Skeletons.- Automatic Learning of Articulated Skeletons from 3D Marker Trajectories.- Real Time Hand Gesture Recognition Including Hand Segmentation and Tracking.- Physically-Based Real-Time Diffraction Using Spherical Harmonics.- 3D Segmentation of Mammospheres for Localization Studies.- Viewpoint Selection for Angiographic Volume.- Recognizing Action Primitives in Complex Actions Using Hidden Markov Models.- Polyhedrization of Discrete Convex Volumes.- Automatic Camera Calibration and Scene Reconstruction with Scale-Invariant Features.- Surface Fitting to Curves with Energy Control.- Blob Tracking with Adaptive Feature Selection and Accurate Scale Determination.