Autor im Porträt
Karen M. Moning
zur Autoren-Welt
Toptitel von Karen M. Moning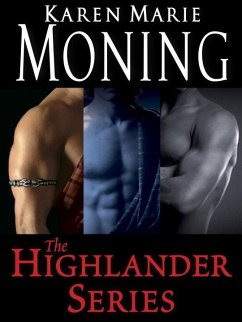 With her signature blend of sensual fantasy, thrilling adventure, and breathtaking magic, Karen Marie Moning-the #1 New York Times bestselling author of such novels as Shadowfever and Dreamfever-is the reigning queen of paranormal romance. Now in a
convenient eBook bundle, here are the seven novels in her spellbinding Highlander series, featuring passionate love stories with a time-travel twist: Beyond the Highland Mist, To Tame a Highland Warrior, The Highlander's Touch, Kiss of the Highlander, The Dark Highlander, The Immortal Highlander, and Spell of the Highlander. "Highly original . . . sensual, hard-to-put-down romance. Karen Marie Moning is destined to make her mark on the genre."-Romantic Times, on Beyond the Highland Mist Beyond the Highland Mist He is known throughout medieval Scotland as Hawk. No woman could refuse his touch, but no woman ever stirred his heart-until Adrienne de Simone tumbles out of modern-day Seattle and into Hawk's legendary bed. To Tame a Highland Warrior He was born to a clan of Highland warriors of supernatural strength, but Gavrael McIllioch abandoned his name to escape the dark fate of his ancestors. Yet even from afar, he watches over Jillian St. Clair. She is the only woman who can tame the beast within him-even as deadly enemies plot to destroy them both. The Highlander's Touch A trick of fate has sent Lisa seven hundred years back in time and into Scottish warrior Circenn Brodie's chamber to tempt him with an all-consuming desire. For this woman he burns to possess is also the woman he has foresworn to destroy. Kiss of the Highlander Enchanted by a powerful spell, Highland laird Drustan MacKeltar has slumbered for nearly five centuries, until an unlikely savior, Gwen Cassidy, awakens him. Bound to Drustan, Gwen is swept back to sixteenth-century Scotland where a warrior with the power to change history will defy time itself for the woman he loves. The Dark Highlander Dageus MacKeltar is a sixteenth-century Scot trapped between worlds, battling with the thirteen Druids who possess his soul. When Chloe Zanders is drawn into his world, she will face the challenge of a lifetime: fighting thirteen evil spirits for the heart of one irresistible man. The Immortal Highlander Adam Black is free to roam across time in pursuit of his insatiable desires, until a curse strips him of his immortality and makes him invisible. The only woman who can see him is Gabrielle O'Callaghan. It is the beginning of a long, dangerous seduction, the price of which could be their very lives. Spell of the Highlander Jessi St. James first sees the gorgeous man staring out at her from the glass of an ancient mirror. Heir to the arcane magic of his Druid ancestors, Cian MacKeltar was trapped centuries ago inside the Dark Glass, and now an enemy will stop at nothing to reclaim it. And Cian will stop at nothing to protect Jessi from a deadly fate. "[Moning's] storytelling skills are impressive, her voice and pacing dynamic, and her plot as tight as a cask of good Scotch whisky."-Contra Costa Times, on Kiss of the Highlander Includes a tantalizing excerpt from Karen Marie Moning's beloved novella Into the Dreaming.
…mehr
---
---
-55%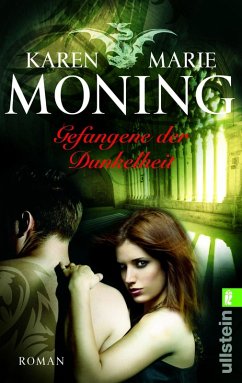 Die junge Seherin MacKayla Lane, die sich in Dublin auf der Suche nach dem Mörder ihrer Schwester befindet, gerät in die Hände des gefährlichen Lord Master. Doch bevor der Herrscher über das Reich der Dunkelheit und seine Geschöpfe sie vollends in
seinen Bann schlagen kann, wird Mac von ihren Freunden Dani und Barron gerettet. Vorerst in Sicherheit, erfährt sie, dass sich während ihrer Gefangenschaft Schreckliches ereignet hat: Die Barriere zwischen der Welt der Menschen und der der dunklen Mächte ist gefallen - und Macs Eltern sind in die Hände des Lord Master gefallen. Kann Mac sie retten und die Unseeligen in die Unterwelt zurückdrängen?
…mehr
---
---
** Früherer Preis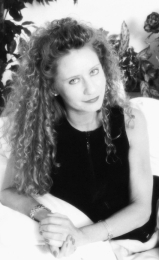 Karen M. Moning
Karen Marie Moning erzielte mit ihren Zeitreise-Romanen nicht nur in den USA Bestsellererfolge, sondern auch in Deutschland hat sie sich eine riesige Fangemeinde geschaffen. Die Autorin lebt in Cincinnati, Ohio