PROLOGUE

Standing in the kitchen of his Park Avenue apartment, Jamie Dimon poured himself a cup of coffee, hoping it might ease his headache. He was recovering from a slight hangover, but his head really hurt for a different reason: He knew too much .

It was just past 7:00 a.m. on the morning of Saturday, September 13, 2008. Dimon, the chief executive of JP Morgan Chase, the nation's third largest bank, had spent part of the prior evening at an emergency, all-hands-on-deck meeting at the Federal Reserve Bank of New York with a dozen of his rival Wall Street CEOs. Their assignment was to come up with a plan to save Lehman Brothers, the nation's fourth-largest investment bank-or risk the collateral damage that might ensue in the markets.

To Dimon it was a terrifying predicament that caused his mind to spin as he rushed home afterward. He was already more than two hours late for a dinner party that his wife, Judy, was hosting. He was embarrassed by his delay because the dinner was for the parents of their daughter's boyfriend, whom he was meeting for the fi rst time.

\"Honestly, I'm never this late,\" he offered, hoping to elicit some sympathy.

Trying to avoid saying more than he should, still he dropped some hints about what had happened at the meeting. \"You know, I am not lying about how serious this situation is,\" Dimon told his slightly alarmed guests as he mixed himself a martini. \"You're going to read about it tomorrow in the papers.\"

As he promised, Saturday's papers prominently featured the dramatic news to which he had alluded. Leaning against the kitchen counter, Dimon opened the Wall Street Journal and read the headline of its lead story: \"Lehman Races Clock; Crisis Spreads.\"

Dimon knew that Lehman Brothers might not make it through the weekend. JP Morgan had examined its books earlier that week as a potential lender and had been unimpressed. He also had decided to request some extra collateral from the firm out of fear it might fall. In the next twenty four hours, Dimon knew, Lehman would either be rescued or ruined.

Knowing what he did, however, Dimon was concerned about more than just Lehman Brothers. He was aware that Merrill Lynch, another icon of Wall Street, was in trouble, too, and he had just asked his staff to make sure JP Morgan had enough collateral from that firm as well. And he was also acutely aware of new dangers developing at the global insurance giant American International Group (AIG) that so far had gone relatively unnoticed by the public-it was his firm's client, and they were scrambling to raise additional capital to save it. By his estimation AIG had only about a week to find a solution, or it, too, could falter.

Of the handful of principals involved in the dialogue about the enveloping crisis-the government included-Dimon was in an especially unusual position. He had the closest thing to perfect, real-time information. That \"deal flow\" enabled him to identify the fraying threads in the fabric of the financial system, even in the safety nets that others assumed would save the day.

Dimon began contemplating a worst-case scenario, and at 7:30 a.m. he went into his home library and dialed into a conference call with two dozen members of his management team.

\"You are about to experience the most unbelievable week in America ever, and we have to prepare for the absolutely worst case,\" Dimon told his staff. \"We have to protect the firm. This is about our survival.\"

His staff listened intently, but no one was quite certain what Dimon was trying to say.

Like most people on Wall Street-including Richard S. Fuld Jr., Lehman's CEO, who enjoyed one of the longest reigns of any of its leaders-many of those listening to the call assumed that the government would intervene and prevent its failure. Dimon hastened to disabuse them of the notion.

\"That's wishful thinking. There is no way, in my opini<\/div>"}'>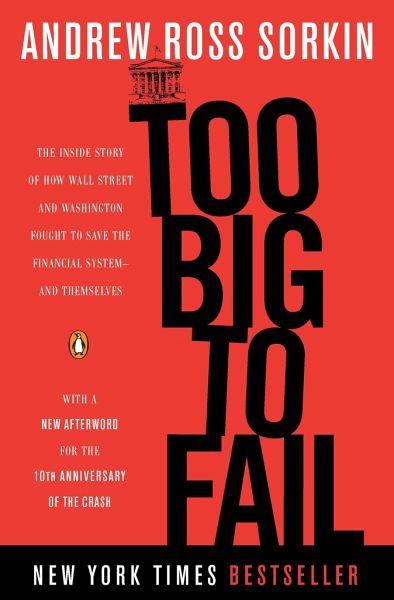 Andere Kunden interessierten sich auch für
Andrew Ross Sorkin delivers the first true behind-the-scenes, moment-by-moment account of how the greatest financial crisis since the Great Depression developed into a global tsunami. From inside the corner office at Lehman Brothers to secret meetings in South Korea, and the corridors of Washington, TOO BIG TO FAIL is the definitive story of the most powerful men and women in finance and politics grappling with success and failure, ego and greed, and, ultimately, the fate of the world's economy.

Als die Finanzwelt am Abgrund stand
Als die Investmentbank Lehman Brothers über Nacht zusammenbrach, löste das Schockwellen um den ganzen Erdball aus. Die Bank war eigentlich zu groß und wichtig gewesen, um sie pleitegehen zu lassen. In einer brillanten Erzählung, die den Leser direkt in die Büros der Mächtigen führt, rekonstruiert der Journalist Andrew R. Sorkin den dramatischen Ausbruch der Finanzkrise von 2008/2009 und die verzweifelten Bemühungen von Bankern und Politikern, den völligen Kollaps des Finanzsystems zu verhindern. Auf der Grundlage von ausführlichen Interviews, firmeninternen E-Mails und Protokollen liefert Sorkin die definitive Darstellung der Krise, die viele bisher unbekannte Details verrät.

Produktdetails
Verlag: Penguin Us
Upd. ed.
Seitenzahl: 624
2010
Ausstattung/Bilder: Upd. ed. 2010. 618 p. 16-page b/w photo insert on insert stock. 8.43 in
Englisch
Abmessung: 213mm x 141mm x 40mm
Gewicht: 614g
ISBN-13: 9780143118244
ISBN-10: 0143118242
Best.Nr.: 28950107
"...comprehensive and chilling..."
- TIME
"...his action scenes are intimate and engaging..."
- The New Yorker
"Sorkin's prodigious reporting and lively writing put the reader in the room for some of the biggest-dollar conference calls in history. It's an entertaining book, brisk book...Sorkin skillfully captures the raucous enthusiasm and riotous greed that fueled this rational irrationality."
- The New York Times Book Review
"...brings the drama alive with unusual inside access and compelling detail...A deeply researched account of the financial meltdown."
- BusinessWeek
"...meticulously researched...told brilliantly. Other blow-by-blow accounts are in the works. It is hard to imagine them being this riveting."
- The Economist
"Sorkin's densely detailed and astonishing narrative of the epic financial crisis of 2008 is an extraordinary achievement that will be hard to surpass as the definitive account...as a dramatic close-up, his book is hard to beat."
- Financial Times
"Sorkin's book, like its author, is a phenom...an absolute tour de force."
- The American Prospect
"Andrew Ross Sorkin pens what may be the definitive history of the banking crisis."
- The Atlantic Monthly
"Andrew Ross Sorkin has written a fascinating, scene-by-scene saga of the eyeless trying to march the clueless through Great Depression II."
-Tom Wolfe
"...Sorkin has succeeded in
writing the book of the crisis, with amazing levels of detail and access."
-Reuters

"Sorkin can write. His storytelling makes "Liar's Poker" look like a children's book."
-SNL Financial
…mehr