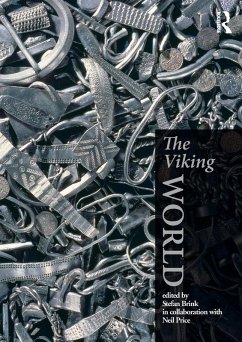 The Viking World
Ed.: Brink, Stefan;Price, Neil
Broschiertes Buch
Sprache: Englisch
versandkostenfrei

innerhalb Deutschlands

Sofort lieferbar

Alle Preise inkl. MwSt.
*Früherer Preis

-22 %
Andere Kunden interessierten sich auch für
The Viking World
Filling a gap in the literature for an academically oriented volume on the Viking period, this unique book is a one-stop authoritative introduction to all the latest research in the field, and the most comprehensive book of its kind ever attempted.
Produktinformation
---
Verlag: Taylor & Francis
2012
Ausstattung/Bilder: 2011. 744 p.
Seitenzahl: 717
Routledge Worlds
Englisch
Abmessung: 254mm x 177mm x 46mm
Gewicht: 1286g
ISBN-13: 9780415692625
ISBN-10: 0415692628
Best.Nr.: 33714457
'Editors Brink and Price are to be commended for coordinating this impressive volume. The book is large and learned, intended as a reference work for scholars and serious students of Scandinavia in the Viking Age. Lay readers with a keen interest in the Vikings will also wish to have this reference work, not only for the wealth of information, but also because the articles are well written by noted scholars. The articles are often wide-ranging, and the breadth given to the various topics covered is impressive ... Indispensable for scholars of the Middle Ages who wish to expand their course offerings by teaching courses on the Viking age, or for scholars and students who wish to do research in this field.' - CHOICE 'The publishers, editors and individual authors are to be commended for producing a volume that is generally thorough, readable and valuable, and that will undoubtedly have a long life both as a standard work of reference and as a beacon guiding further research into the Viking phenomenon.' - Saga-Book
Stefan Brink is Professor of Scandinavian Studies and Director of Centre for Scandinavian Studies at the University of Aberdeen. Neil Price is Associate Professor of Archaeology, Conservation, and Historical Studies at Oslo University, and Docent in Archaeology at The University of Uppsala, Sweden.
Inhaltsangabe
Part 1: Viking Age Scandinavia
People, Society and Social Institutions. Living Space.
Technology and Trade.
Warfare and Weaponry.
Pre-Christian Religion and Belief.
Language, Literature and Art
Part 2: The Viking Expansion The British Isles.
Continental Europe and the Mediterranean.
The Baltic.
Russia and the East.
The North Atlantic Part 3: Scandinavia Enters the European Stage
The Coming of Christianity.
The Development of Nation States (riki)