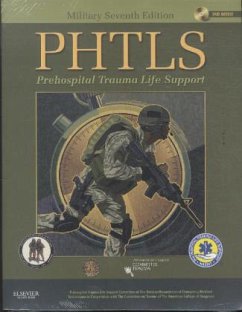 PHTLS: Prehospital Trauma Life Support, Military Edition
Broschiertes Buch
Sprache: Englisch
versandkostenfrei

innerhalb Deutschlands

Versandfertig in über 4 Wochen

Alle Preise inkl. MwSt.
Andere Kunden interessierten sich auch für
PHTLS: Prehospital Trauma Life Support, Military Edition
As the required textbook for NAEMT's worldwide prehospital trauma life support course, Prehospital Trauma Life Support (PHTLS) is the comprehensive, internationally renowned resource for learning basic and advanced prehospital trauma skills and concepts. Fully revised and updated, the 7th edition provides state-of-the-art, evidence-based trauma treatment and guidelines that are proven to reduce morbidity and mortality. Tailored expressly for the military environment, this book diverges in the last 12 chapters to reflect the special considerations of the military. These unique chapters are written by the Tactical Combat Casualty Care Committee on Trauma, the leading body that oversees trauma care. The Instructor's Electronic Resource CD-ROM is available for certified PHTLS instructors only. It can be ordered through Elsevier/MosbyJems, but customers must first obtain an access code from the National PHTLS office at 1-800-94-PHTLS or 1-601-924-7744. Individuals may also call the above numbers for information on How to Become a PHTLS Instructor.

Produktinformation
---
Verlag: Mosby
2011
7. Aufl.
Ausstattung/Bilder: 816 S. 390 illus. 276 mm
Englisch
Abmessung: 37mm x 218mm x 283mm
Gewicht: 1732g
ISBN-13: 9780323065030
ISBN-10: 0323065031
Best.Nr.: 29741736
Inhaltsangabe
Division 1: Energy and Injury
1. PHTLS Past, Present, and Future (previously, Introduction to PHTLS)
2. Injury Prevention
3. NEW! Art and Science of Medicine
4. Assessment of Kinematics
Division 2: Assessment and Management
5. Scene Assessment and Management
6. Patient Assessment and Management
7. Airway and Ventilation Assessment and Management
8. Shock Assessment and Management
Division 3: Specific Injuries
9. Head Trauma
10. Spinal Trauma
11. Thoracic Trauma
12. Abdominal Trauma
13. Musculoskeletal Trauma
14. Burn Trauma
15. Pediatric Trauma
16. Geriatric Trauma
Division 4: Summary
17. Golden Principles of Prehospital Trauma Care
Division 5: Mass Casualties and Terrorism
18. Disaster Management
19. Explosives and Other Weapons of Mass Destruction
Division 6: Special Considerations
20. Environmental Trauma I: Heat and Cold
21. Environmental Trauma II: Drowning, Lightning, Diving, and Altitude
22. Wilderness Trauma Care
23. Civilian Tactical Emergency Medical Support
Division 7: Military Medicine
24. Introduction to Tactical Combat Casualty Care
25. Care Under Fire
26. Tactical Field Care
27. Tactical Evacuation Care
28. Aeromedical Evacuation in a Combat Theater
29. NEW! Joint Theater Trauma System
30. Triage in Tactical Combat Casualty Care
31. Injuries from Explosives
32. NEW! Treatment of Burn Casualties in TCCC
33. NEW! TCCC Casualty Response Planning
34. Medical Support of Urban Operations
35. Ethical Considerations for the Combat Medic
Glossary

Ein Marktplatz-Angebot für "PHTLS: Prehospital Trauma Life Support, Military Edition" für EUR 48,90
Zustand
Preis
Porto
Zahlung
Verkäufer
Rating
gebraucht; sehr gut
48,90
4,00
offene Rechnung (Vorkasse vorbehalten), PayPal, Banküberweisung
primatexxt Buchversand
99,9%
ansehen