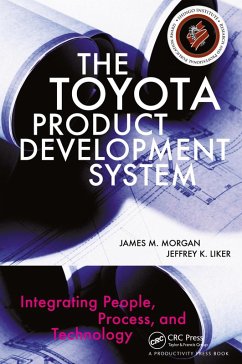 The Toyota Product Development System
Gebundenes Buch
Sprache: Englisch
versandkostenfrei

innerhalb Deutschlands

EUR 45,95

Sofort lieferbar

Alle Preise inkl. MwSt.
Andere Kunden interessierten sich auch für
The Toyota Product Development System
The ability to bring new and innovative products to market rapidly is the prime critical competence for any successful consumer-driven company. All industries, especially automotive, are slashing product development lead times in the current hyper-competitive marketplace. This book is the first to thoroughly examine and analyze the truly effective product development methodology that has made Toyota the most forward-thinking company in the automotive industry. In The Toyota Product Development System: Integrating People, Process, and Technology, James Morgan and Jeffrey Liker compare and contrast the world-class product development process of Toyota with that of a U.S. competitor. They use extensive examples from Toyota and the U.S. competitor to demonstrate value stream mapping as an extraordinarily powerful tool for continuous improvement. Through examples and case studies, this book illustrates specific techniques and proven practices for dealing with challenges associated with product development, such as synchronizing multiple disciplines, multiple function workload leveling, compound process variation, effective technology integration, and knowledge management. This valuable book: Highlights the application of value stream mapping methodology to product development. Identifies and defines the categories of waste that are specific to the product development process. Presents countermeasures and proven practices, based on Lean principles, developed for the product development process used at Toyota. Illustrates and clarifies the methodology by presenting actual case examples at Toyota and a U.S. competitor. Readers of this book can focus on optimizing the entire product developmentvalue stream rather than focus on a specific tool or technology for local improvements.
Produktinformation
---
Verlag: Productivity Press
2006
Ausstattung/Bilder: 2006. 377 p.
Seitenzahl: 400
Productivity Press
Englisch
Abmessung: 237mm x 159mm x 24mm
Gewicht: 682g
ISBN-13: 9781563272820
ISBN-10: 1563272822
Best.Nr.: 20898003
Dr. Jeffrey K. Liker ist Professor für Ingenieurswissenschaftenan der University of Michigan.Er ist dort Direktor und Mitbegründer des JapanTechnology Management Program. Als Gewinner von vier Shingo Prizes for Excellence schreibt er regelmäßig für den Harvard Business Review und den Sloan Management Review. Dr. Jeffrey K. Liker berät namhafte Firmenwie DaimlerChrysler, Asia Pacific oderdie U.S. Air Force.