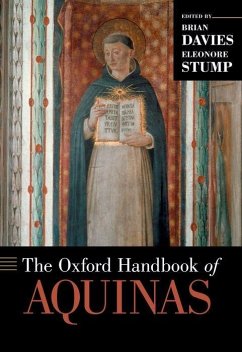 The Oxford Handbook of Aquinas
Gebundenes Buch
Sprache: Englisch
versandkostenfrei

innerhalb Deutschlands

Sofort lieferbar

Alle Preise inkl. MwSt.
Andere Kunden interessierten sich auch für
The Oxford Handbook of Aquinas
Thomas Aquinas (1224/6-1274) lived an active, demanding academic and ecclesiastical life that ended while he was still comparatively young. He nonetheless produced many works, varying in length from a few pages to a few volumes. The present book is an introduction to this influential author and a guide to his thought on almost all the major topics on which he wrote.
Produktinformation
---
Oxford Handbooks in Philosophy
Verlag: Oxford University Press
2012
Seitenzahl: 589
Oxford Handbooks in Philosophy
Englisch
Abmessung: 260mm x 192mm x 48mm
Gewicht: 1163g
ISBN-13: 9780195326093
ISBN-10: 0195326091
Best.Nr.: 33602958
This collection is necessary reading for all students of St. Thomas and should become a standard reference in every university library supporting programs in medieval philosophy and theology. W. P. Haggerty, CHOICE
Brian Davies, Fordham University, New York;Eleonore Stump, Saint Louis University
Inhaltsangabe
Introduction
1 Life and Works
2 Historical Background
(a) Aquinas and Aristotle
(b) Augustine to Aquinas (Latin-Christian authors)
(c) Aquinas, Plato, and Neo-Platonism
(d) Aquinas and Jewish and Islamic authors
3 Metaphysics and the Existence of God
(a) Being
(b) Matter, Form, and Individuation
(c) Causation
(d) The Five Ways
(e) The Limits of Language and the Notion of Analogy
4 The Divine Nature
(a) God's Simplicity
(b) God's Goodness
(c) God's Knowledge and Will
(d) God's Impassibility, Immutability, and Eternality
(e) God's Omnipotence
5 Ethics and Action Theory
(a) Human Freedom and Agency
(b) Emotions
(c) Happiness
(d) Law and Natural Law
(e) Conscience and Synderesis
(f) Virtues and Vices
(g) Practical Reasoning
6 Epistemology
(a) Human Knowledge
(b) Intellectual Virtues
(c) The Relation of Reason to Faith
7 Philosophy of Mind and Human Nature
8 The