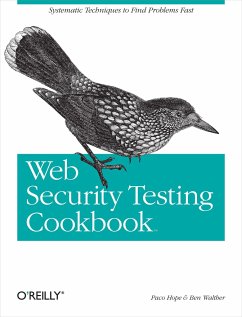 Web Security Testing Cookbook
Systematic Techniques to Find Problems Fast
Broschiertes Buch
Sprache: Englisch
versandkostenfrei

innerhalb Deutschlands

Sofort lieferbar

Alle Preise inkl. MwSt.
*Früherer Preis

-14 %
Andere Kunden interessierten sich auch für
Web Security Testing Cookbook
Among the tests you perform on web applications, security testing is perhaps the most important, yet it's often the most neglected. The recipes in the Web Security Testing Cookbook demonstrate how developers and testers can check for the most common web security issues, while conducting unit tests, regression tests, or exploratory tests. Unlike ad hoc security assessments, these recipes are repeatable, concise, and systematic-perfect for integrating into your regular test suite.

Recipes cover the basics from observing messages between clients and servers to multi-phase tests that script the login and execution of web application features. By the end of the book, you'll be able to build tests pinpointed at Ajax functions, as well as large multi-step tests for the usual suspects: cross-site scripting and injection attacks. This book helps you:
- Obtain, install, and configure useful-and free-security testing tools
- Understand how your application communicates with users, so you can better simulate attacks in your tests
- Choose from many different methods that simulate common attacks such as SQL injection, cross-site scripting, and manipulating hidden form fields
- Make your tests repeatable by using the scripts and examples in the recipes as starting points for automated testsDon't live in dread of the midnight phone call telling you that your site has been hacked. With Web Security Testing Cookbook and the free tools used in the book's examples, you can incorporate security coverage into your test suite, and sleep in peace.

Millions of dollars are spent every year developing, testing, defending, and fixing web applications -- and, ultimately, web developers are blamed when something goes wrong. Web Security Testing Cookbook gives developers an inexpensive way to include testing as part of the development cycle. You'll find scores of recipes for testing web applications, from relatively simple solutions to complex ones that combine several solutions.
This practical book focuses on how to test web applications -- not what web security consists of or why developers should test. And, rather than IT security, the recipes address application software exclusively -- source code, business logic -- written, operated, and now tested by you. Each recipe in the book states the problem to be solved, the tools and techniques required, technical details involved, and examples.
Web Security Testing Cookbook also leverages free tools, and not only because they save you considerable expense. In security, perhaps more than in any other specialized discipline, the best tools tend to be free. The book offers recipes in four different sections to help you: Learn basics concepts to develop tests, and obtain and set up the tools you'll use Automate tools and scripts to test a web application in a systematic way Learn methods to bypass client side input validation for various purposes, such as SQL injection, cross-site scripting, and manipulating hidden form fields Focus on the session by finding identifiers, analyzing how predictable they are, and manipulating them with tools.
By following the recipes in this book, you can be reasonably sure that your application is not going to be one of the thousands that hackers compromise every day. They don't take the place of real penetration testing, but they will make sure your application is not a disaster waiting to happen.
Take the time to include security testing in the development cycle. Web Security Testing Cookbook will save you weeks of headaches and tons of money down the road. Who knows? This book might even save your job.
Produktinformation
---
Verlag: O'Reilly Media
2008
Ausstattung/Bilder: 2009. XXIII, 285 p. w. figs.
Seitenzahl: 312
Englisch
Abmessung: 231mm x 179mm x 20mm
Gewicht: 420g
ISBN-13: 9780596514839
ISBN-10: 0596514832
Best.Nr.: 23607189
Paco Hope is a Technical Manager at Cigital, Inc. and co-author of Mastering FreeBSD and OpenBSD Security (April 2005, O'Reilly, ISBN 0596006268). Mr. Hope has also published articles on Misuse and Abuse Cases and PKI. He has been invited to conferences to speak on topics such as software security re-quirements, web application security, and embedded system security. At Cigi-tal, he has served as a subject matter expert to MasterCard International for security policies and has assisted a Fortune 500 hospitality company in writ-ing software security policy. He also trains software developers and testers in the fundamentals of software security. In the gaming and mobile communica-tions industries he has advised several companies on software security. Mr. Hope majored in Computer Science and English at The College of William and Mary and received an M.S. in Computer Science from the University of Virginia.