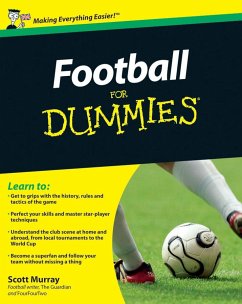 Football For Dummies
Broschiertes Buch
Sprache: Englisch
versandkostenfrei

innerhalb Deutschlands

Sofort lieferbar

Alle Preise inkl. MwSt.
Andere Kunden interessierten sich auch für
Football For Dummies
Whether you want to impress friends and colleagues with new-found football wisdom, brush up on details you're unsure about (the offside rule, anyone?) or improve your practical skills, this is the book for you! Covering all the basics of the game, rules and tactics, as well as giving an in-depth history of the sport and how it has evolved to the present day, this indispensable guide will get you up to speed on the most popular game in the world in no time. With dream team formations, tips on football betting and supporting, essential coverage on the World Cup, and stats on current teams, players and managers both at home and abroad, football expert and Guardian journalist Scott Murray keeps it fun, fresh and knowledgeable to get you through the major tournaments and beyond.

Football For Dummies includes:

PART 1: KICK OFF
Chapter 1: The bare essentials
Chapter 2: A rich history
Chapter 3: Get your boots on - the gear you need

PART 2: PLAYING THE GAME
Chapter 4: Laying down the laws
Chapter 5: Positions and tactics
Chapter 6: Honing your skills
Chapter 7: Talented training
Chapter 8: Coaching, managing and leadership
Chapter 9: Putting it all into practice

PART 3: THE WORLD OF FOOTBALL
Chapter 11: The World Cup
Chapter 12: The international scene
Chapter 13: The British club scene
Chapter 14: Taking on the world
Chapter 15: Women's football

PART 4: FANS ENCLOSURE
Chapter 16: Going to the match
Chapter 17: Read all about it...
Chapter 18: Compulsive viewing: Football on TV (and film, and DVD...)
Chapter 19: Joining in (sort of...)

PART 5: THE PART OF TENS
Chapter 20: Great players
Chapter 21: Great managers
Chapter 22: Great matches
Chapter 23: Bad behaviour

PART 6: APPENDICES
Appendix 1: Appendix A: Honour Boards
Appendix 2: Glossary
Appendix 3: Key Football Organisations
Produktinformation
---
Verlag: Wiley & Sons
2010
2. Auflage
Ausstattung/Bilder: 2. Auflage. 2010. 404 S. 235 mm
Englisch
Abmessung: 27mm x 187mm x 234mm
Gewicht: 740g
ISBN-13: 9780470688373
ISBN-10: 0470688378
Best.Nr.: 27374155
'...Murray has compiled a guide to the game so simple and effective that any dummy can understand it.' (Four Four Two, May 2010). '...offers those who are yet to climb on board the bandwagon a leg up.' (ESPN.com).
Scott Murray is a code artist who writes software to create data visualizations and other interactive phenomena. His work incorporates elements of interaction design, systems design, and generative art.
Leseprobe zu "Football For Dummies" von Scott Murray
EPUB herunterladen
Zur Anzeige wird der
EPUBReader (Firefox PlugIn)
benötigt.
Laden Sie zunächst die Leseprobe herunter. Lokal gespeicherte EPUB-Dateien können Sie über das Firefox-Menü "Datei/Datei öffnen" öffnen oder Sie ziehen die Datei einfach auf das Firefox-Fenster.
Inhaltsangabe
Introduction.
Part I: Kicking Off.
Chapter 1: Welcome to Planet Football.
Chapter 2: The Ball Starts Rolling: A Potted History of Football.
Chapter 3: Getting Your Boots On: The Gear You Need.
Part II: Playing the Game.
Chapter 4: Laying Down the Laws.
Chapter 5: Players, Positions and Tactics.
Chapter 6: Honing Your Skills.
Chapter 7: Keeping Fit for Football.
Chapter 8: Coaching, Managing and Leadership.
Chapter 9: Getting the Game On.
Part III: Exploring the World of Football.
Chapter 10: The World Cup.
Chapter 11: Surveying the International Scene.
Chapter 12: The Club Scene.
Chapter 13: Focusing on Famous Clubs.
Chapter 14: Women's Football.
Part IV: The Fans' Enclosure: Following the Game.
Chapter 15: Going to the Match.
Chapter 16: Compulsive Viewing: Football on Screen.
Chapter 17: Read All About It!
Chapter 18: Other Football-based Pastimes.
Part V: The Part of Tens.
Chapter 19: Ten Great Players.
Chapter 20: The Ten Greatest Teams of All Time.
Chapter 21: Ten Great Matches.
Part VI: Appendixes.
Appendix A: Roll of Honour.
Appendix B: Glossary.
Index.