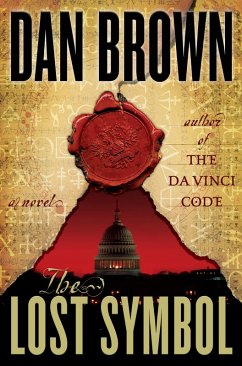 The Lost Symbol
Gebundenes Buch
Sprache: Englisch
versandkostenfrei

innerhalb Deutschlands

Bisher EUR 21,95*

EUR 19,95

Versandfertig in über 4 Wochen

Alle Preise inkl. MwSt.
* Preisreduzierungen für Sonderausgaben,
teils in anderer Ausstattung

-9 %
Andere Kunden interessierten sich auch für
The Lost Symbol
Washington, D.C.: In der amerikanischen Hauptstadt liegt ein sorgsam gehütetes Geheimnis verborgen, und ein Mann ist bereit, dafür zu töten. Doch dazu benötigt er die Unterstützung eines Menschen, der ihm freiwillig niemals helfen würde: Robert Langdon, Harvard-Professor und Experte für die Entschlüsselung und Deutung mysteriöser Symbole.

Nur ein finsterer Plan ermöglicht es, Robert Langdon in die Geschichte hineinzuziehen. Fortan jagt der Professor über die berühmten Schauplätze der Hauptstadt, doch die wahren Geheimnisse sind in dunklen Kammern, Tempeln und Tunneln verborgen. Orte, die vor ihm kaum jemand betreten hat. Und er jagt nicht nur - er wird selbst zum Gejagten. Denn das Rätsel, das nur er zu lösen vermag, ist für viele Kreise von größter Bedeutung - im Guten wie im Bösen.

Zwölf Stunden bleiben Robert Langdon, um seine Aufgabe zu erfüllen. Danach wird die Welt, die wir kennen, eine andere sein.

In this stunning follow-up to the global phenomenon The Da Vinci Code , Dan Brown demonstrates once again why he is the world's most popular thriller writer. The Lost Symbol is a masterstroke of storytelling-a deadly race through a real-world labyrinth of codes, secrets, and unseen truths . . . all under the watchful eye of Brown's most terrifying villain to date. Set within the hidden chambers, tunnels, and temples of Washington, D.C., The Lost Symbol accelerates through a startling landscape toward an unthinkable finale.

As the story opens, Harvard symbologist Robert Langdon is summoned unexpectedly to deliver an evening lecture in the U.S. Capitol Building. Within minutes of his arrival, however, the night takes a bizarre turn. A disturbing object -artfully encoded with five symbols-is discovered in the Capitol Building. Langdon recognizes the object as an ancient invitation . . . one meant to usher its recipient into a long-lost world of esoteric wisdom.

When Langdon's beloved mentor, Peter Solomon-a prominent Mason and philanthropist -is brutally kidnapped, Langdon realizes his only hope of saving Peter is to accept this mystical invitation and follow wherever it leads him. Langdon is instantly plunged into a clandestine world of Masonic secrets, hidden history, and never-before-seen locations-all of which seem to be dragging him toward a single, inconceivable truth.

As the world discovered in The Da Vinci Code and Angels & Demons , Dan Brown's novels are brilliant tapestries of veiled histories, arcane symbols, and enigmatic codes. In this new novel, he again challenges readers with an intelligent, lightning-paced story that offers surprises at every turn. The Lost Symbol is exactly what Brown's fans have been waiting for . . . his most thrilling novel yet.

Produktinformation
---
2009
Ausstattung/Bilder: 2009. 528 S. 9.55 in
Seitenzahl: 509
Robert Langdon Vol.3
Englisch
Abmessung: 240mm x 162mm x 40mm
Gewicht: 786g
ISBN-13: 9780385504225
ISBN-10: 0385504225
Best.Nr.: 26220971
| | |
| --- | --- |
| | Besprechung von 15.09.2009 |
---
Auf dem Weg zur Hölle
An diesem Dienstag erscheint Dan Browns "The Lost Symbol"
Jetzt können die digitalen Uhren ausruhen, die rückwärts hetzten, um im Sekundentakt den Countdown bis zum Erscheinen des neuen Thrillers von Dan Brown anzuzeigen. Sie ähnelten den Uhren, auf denen die Schuldenberge dramatisch anwachsen, aber sie eilten einem Hoffnungsdatum des Buchhandels entgegen, ab dem die Bilanzen in die Höhe schnellen sollen. Seit diesem Dienstag wird die englische Originalausgabe von "The Lost Symbol" verkauft, arbeiten die Übersetzerteams der lizenznehmenden Verlage in aller Welt im Akkord, beginnt im Netz das vielsprachige Gezwitscher der Verschwörungstheoretiker, Dechiffriersyndikate und Symbol-Experten.
Nichts ist öffentlichkeitstauglicher als eine Geheimgesellschaft, nirgends erstrahlt das Publizieren in größerem Glanz, als wenn ein Geheimnis veröffentlicht wird. Verleger sind "Publisher", aber eben weil sie dies sind, wissen sie um die Aura des noch unpublizierten, unbekannten Manuskript. Und so hatten die Werbestrategen, die das Original betreuten, in den letzten Wochen perfekte Mimikry mit dem Stoff betrieben. Sie waren zu einer …


---
| | |
| --- | --- |
| | Besprechung von 20.09.2009 |
---
Das Passwort der Welt
Was sagt uns die Pyramide auf dem Dollarschein? Dan Browns neuer Thriller "Das verlorene Symbol" veranstaltet eine große Schnitzeljagd in Washington

Was ist bloß mit dem Umschlag los? Fängt da schon die Verschwörung an? Ein blutroter Himmel über dem Kapitol in Washington, ein rotes Siegel, ein Stück Pergament voller Zeichen und Symbole - so sieht die amerikanische Ausgabe aus. Die britische dagegen, welche in Deutschland ausgeliefert wird, zeigt auch das Kapitol, in leicht schwefligem Licht, aber ansonsten nur einen Schlüssel mit Winkel und Zirkel, den typischen Symbolen der Freimaurer. Warum? Eine Frage der Ästhetik? Oder doch der Semiotik?

Ach, egal, man muss nicht alle Rätsel lösen, bloß weil über dem Schlüssel "Dan Brown" steht. Sicher ist: "The Lost Symbol" ist der neue Roman von Dan Brown. Startauflage: mehr als fünf Millionen in Amerika. Nach insgesamt 81 Millionen verkaufter Exemplare des "Da Vinci Codes" ist das kein grundloser Optimismus. Nur sechs Menschen kannten angeblich den Roman bis zum vergangenen Dienstag, dem Ersterscheinungstag, die Paletten mit den Büchern wurden in einem …


---
| | |
| --- | --- |
| | Besprechung |
Bereitgestellt von kulturnews.de
(c) bunkverlag
Jeder Roman von Dan Brown wird sich mit dem Weltbestseller "Sakrileg" vergleichen lassen müssen, mit dem der Autor einen Klassiker der Verschwörungsliteratur geschaffen hat. Im direkten Nachfolger geht erneut der Symbologieprofessor Robert Langdon auf Geschichtsschnitzeljagd und muss in seinem neuesten Abenteuer das Geheimnis der Freimaurerpyramide lösen. Der Legende nach bewahrt diese das alte Wissen um geheime Mysterien, die die Welt verändern können. Das ist alles mindstens eine Nummer kleiner geraten als in "Sakrileg", die Freimaurer sind eben nicht so spektulär wie die katholische Kirche, der Handlungsort Washington hat - wenigstens für uns Europäer - nicht den Reiz von Paris und dem Louvre. Doch trotz aller Logiklöcher und Schwächen in diesem Roman hat Dan Brown erneut einen echten Page Turner geschrieben, der einem leichte und spannende Lesestunden garantiert. (am)
---
"Dan Brown brings sexy back to a genre that had been left for dead...His code and clue-filled book is dense with exotica...amazing imagery...and the nonstop momentum that makes The Lost Symbol impossible to put down. SPLENDID...ANOTHER MIND-BLOWING ROBERT LANGDON STORY."-Janet Maslin, New York Times

"THRILLING IN THE EXTREME, A DEFINITE PAGE-FLIPPER."- Daily News (New York)

"Call it Brownian motion: A COMET TAIL-RIDE of beautifully spaced reveals and a socko unveiling of the killer's true identity."- Washington Post

"The wait is over. The Lost Symbol is here--and you don't have to be a Freemason to enjoy it....THRILLING AND ENTERTAINING, LIKE THE EXPERIENCE ON A ROLLER COASTER."- Los Angeles Times

"ROBERT LANGDON REMAINS A TERRIFIC HERO, a bookish intellectual who's cool in a crisis and quick on his feet.... The codes are intriguing, the settings present often-seen locales in a fresh light, and Brown keeps the pages turning."- Entertainment Weekly
Dan Brown unterrichtete Englisch, bevor er sich ganz dem Schreiben widmete. Bedingt durch seine Herkunft (Vater Mathematikprofessor - Mutter Kirchenmusikerin) waren für ihn Wissenschaft und Religion keine Gegensätze und diese Kombination in seinen Veröffentlichungen machte ihn als Autor weltbekannt.Er lebt mit seiner Frau in Neuengland.
---
PrologueHouse of the Temple8:33 P.M. The secret is how to die.

Since the beginning of time, the secret had always been how to die.

The thirty-four-year-old initiate gazed down at the human skull cradled in his palms. The skull was hollow, like a bowl, filled with bloodred wine. Drink it, he told himself. You have nothing to fear. As was tradition, he had begun this journey adorned in the ritualistic garb of a medieval heretic being led to the gallows, his loose-fitting shirt gaping open to reveal his pale chest, his left pant leg rolled up to the knee, and his right sleeve rolled up to the elbow. Around his neck hung a heavy rope noose-a "cable-tow" as the brethren called it. Tonight, however, like the brethren bearing witness, he was dressed as a master.The assembly of brothers encircling him all were adorned in their full regalia of lambskin aprons, sashes, and white gloves. Around their necks hung ceremonial jewels that glistened like ghostly eyes in the muted light. Many of these men held powerful stations in life, and yet the initiate knew their worldly ranks meant nothing within these walls. Here all men were equals, sworn brothers sharing a mystical bond.As he surveyed the daunting assembly, the initiate wondered who on the outside would ever believe that this collection of men would assemble in one place . . . much less this place. The room looked like a holy sanctuary from the ancient world.The truth, however, was stranger still. I am just blocks away from the White House. This colossal edifice, located at 1733 Sixteenth Street NW in Washington, D.C., was a replica of a pre-Christian temple-the temple of King Mausolus, the original mausoleum . . . a place to be taken after death. Outside the main entrance, two seventeen-ton sphinxes guarded the bronze doors. The interior was an ornate labyrinth of ritualistic chambers, halls, sealed vaults, libraries, and even a hollow wall that held the remains of two human bodies. The initiate had been told every room in this building held a secret, and yet he knew no room held deeper secrets than the gigantic chamber in which he was currently kneeling with a skull cradled in his palms. The Temple Room. This room was a perfect square. And cavernous. The ceiling soared an astonishing one hundred feet overhead, supported by monolithic columns of green granite. A tiered gallery of dark Russian walnut seats with hand-tooled pigskin encircled the room. A thirty-three-foot-tall throne dominated the western wall, with a concealed pipe organ opposite it. The walls were a kaleidoscope of ancient symbols . . . Egyptian, Hebraic, astronomical, alchemical, and others yet unknown.Tonight, the Temple Room was lit by a series of precisely arranged candles. Their dim glow was aided only by a pale shaft of moonlight that filtered down through the expansive oculus in the ceiling and illuminated the room's most startling feature-an enormous altar hewn from a solid block of polished Belgian black marble, situated dead center of the square chamber. The secret is how to die, the initiate reminded himself."It is time," a voice whispered.The initiate let his gaze climb the distinguished white-robed figure standing before him. The Supreme Worshipful Master. The man, in his late fifties, was an American icon, well loved, robust, and incalculably wealthy. His once-dark hair was turning silver, and his famous visage reflected a lifetime of power and a vigorous intellect."Take the oath," the Worshipful Master said, his voice soft like falling snow. "Complete your journey."The initiate's journey, like all such journeys, had begun at the first degree. On that night, in a ritual similar to this one, the Worshipful Master had blindfolded him with a velvet hoodwink and pressed a ceremonial dagger to his bare chest, demanding: "Do you seriously declare on your honor, uninfluenced by mercenary or any other unworthy motive, that you freely and volun
6 Marktplatz-Angebote für "The Lost Symbol" ab EUR 2,20
Zustand
Preis
Porto
Zahlung
Verkäufer
Rating
wie neu
2,20
2,00
Banküberweisung, Selbstabholung und Barzahlung
TheKiwi
100,0%
ansehen
leichte Gebrauchsspuren
3,00
2,70
Banküberweisung, PayPal, Selbstabholung und Barzahlung
mirimai
100,0%
ansehen
leichte Gebrauchsspuren
3,30
0,00
PayPal, offene Rechnung, Banküberweisung
Mein Buchshop
99,6%
ansehen
gebraucht; sehr gut
4,99
2,30
Selbstabholung und Barzahlung, PayPal, offene Rechnung, Banküberweisung, offene Rechnung (Vorkasse vorbehalten)
Buchladen an der Kyll
99,8%
ansehen
leichte Gebrauchsspuren
5,00
1,20
Banküberweisung
pinky710
100,0%
ansehen
gebraucht; gut
12,00
2,49
PayPal, offene Rechnung, Banküberweisung, offene Rechnung (Vorkasse vorbehalten)
EuropaBuch Antiquariat
100,0%
ansehen