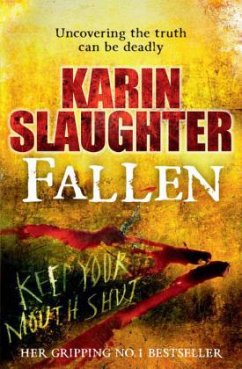 Fallen
Broschiertes Buch
Sprache: Englisch
versandkostenfrei

innerhalb Deutschlands

EUR 9,95

Sofort lieferbar

Alle Preise inkl. MwSt.
Andere Kunden interessierten sich auch für
Fallen
Als Special Agent Faith Mitchell vom Georgia Bureau of Investigation eines Abends nach Hause kommt, stolpert sie in einen Albtraum Will Trent und Dr. Sara Linton müssen die Teile eines brutalen und komplizierten Falles zusammensetzen und einen Mörder finden, der nicht aufhören wird zu morden, bis die Wahrheit ans Licht gekommen ist.

Special Agent Faith Mitchell returns home to a nightmare. Her baby daughter Emma has been locked outside, and there's a trail of blood to the front door.

Without waiting for back-up, Faith enters the house. Inside a man lies dead in a pool of blood. Most worrying of all, her mother is missing.

When the Atlanta police arrive, Faith has some difficult questions to answer. But she has some desperate questions of her own. What were the killers searching for? And where is her mother?

Suspended from duty, Faith turns to her work partner, Will Trent. Together he and Sara Linton must piece together the fragments of a brutal and complicated case, and catch a vicious murderer with only one thing on his mind.

To keep on killing until the truth is finally revealed.

Produktinformation
---
Verlag: Random House Uk; Arrow Books
2012
Ausstattung/Bilder: 2012. 512 S. 179 mm
Seitenzahl: 466
Special Agent Will Trent, Georgia-Reihe Vol.5
Englisch
Abmessung: 179mm x 111mm x 38mm
Gewicht: 280g
ISBN-13: 9780099550273
ISBN-10: 009955027X
Best.Nr.: 34205360
"A complex, gripping and deadly serious novel that reflects anew Slaughter's abundant talent." -The Washington Post

"An amazing effort . . . This is [Karin] Slaughter's best book to date, and readers unfamiliar with her work will find this one a perfect place to begin."-Associated Press

"An absolute master . . . Slaughter creates some wonderfully complex and mature female characters, a distinctive achievement in the world of thrillers." -Chicago Tribune

"Slaughter has always known how to pace the suspense in her stellar crime novels, but she really outdoes herself here. . . . [She] reveals the heart and soul of her characters within a highly choreographed, unrelentingly suspenseful plot."- Booklist (starred review)

Karin Slaughter, Jg. 1971, stammt aus Atlanta, Georgia, wo sie bis heute lebt. Mit ihren 'Grant County'-Thrillern um die Gerichtsmedizinerin Sara Linton und den Polizeichef Jeffrey Tolliver hat sie sich in den Olymp der Thrillerautoren geschrieben. 2003 erschien ihr Debütroman 'Belladonna', der Karin Slaughter unmittelbar an die Spitze der internationalen Bestsellerlisten katapultierte. Ihre Bücher sind in 24 Sprachen übersetzt und haben bereits eine Gesamtauflage von mehr als 20 Millionen Exemplaren überschritten.
SATURDAY

CHAPTER ONE
Faith Mitchell dumped the contents of her purse onto the passenger seat of her Mini, trying to find something to eat. Except for a furry piece of gum and a peanut of dubious origin, there was nothing remotely edible. She thought about the box of nutrition bars in her kitchen pantry, and her stomach made a noise that sounded like a rusty hinge groaning open.
The computer seminar she'd attended this morning was supposed to last three hours, but that had stretched into four and a half thanks to the jackass ion the front row who kept asking pointless questions. The Georgia Bureau of Investigation trained its agents more often than any other agency in the region. Statistics and data on criminal activities were constantly being drummed into their heads. They had to be up -to -date on all of the latest technology. They had to qualify at the range twice a year. They ran mock raids and active shooter simulations that were so intense that for weeks after, Faith couldn't go to the bathroom in the middle of the night without checking shadows in doorways. Usually, she appreciated the agency's thoroughness. Today, all she could think about was her four-month- old baby, and the promise Faith had made to her mother that she would be back no later than noon.

The clock on the dash read ten after one o'clock when she started the car. Faith mumbled a curse as she pulled out of the parking lot in front of the Panthersville Road headquarters. She used Bluetooth to dial her mother's number. The car speakers gave back a static-y silence. Faith hung up and dialed again. This time, she got a busy signal.
Faith tapped her finger on the steering wheel as she listened to the bleating. Her mother had voicemail. Everybody had voicemail. Faith couldn't remember the last time she'd heard a busy signal on the telephone. She had almost forgotten the sound. There was probably a crossed wire somewhere at the phone company. She hung up and tried the number a third time.
Still busy.

Faith steered with one hand as she checked her Blackberry for an email from her mother. Before Evelyn Mitchell retired, she had been a cop for just shy of four decades. You could say a lot about the Atlanta force, but you couldn't claim they were behind the times. Evelyn had carried a cell phone back when they were more like purses you strapped around your shoulder. She'd learned how to use email before her daughter had. She'd carried a Blackberry BlackBerry for almost fifteen years.

But, she hadn't sent a message today.

Faith checked her cell phone voicemail. She had a saved message from her dentist's office about making an appointment to get her teeth cleaned, but there was nothing new. She tried her phone at home, thinking maybe her mother had gone there to pick up something for the baby. Faith's house was just down the road from Evelyn's. Maybe Emma had run out of diapers. Maybe she'd needed another bottle. Faith listened to the phone ring at her house, then heard her own voice answer, telling callers to leave a message.

She ended the call. Without thinking, she glanced into the back seat. Emma's empty car seat was there. She could see the pink liner sticking out over the top of the plastic.
"Idiot," Faith whispered to herself. She dialed her mother's cell phone number. She held her breath as she counted through three rings. Evelyn's voicemail picked up.

Faith had to clear her throat before she could speak. She was aware of a tremor in her tone. "Mom, I'm on my way home. I guess you took Em for a walk ..." . . ." Faith looked up at the sky as she merged onto the interstate. She was about twenty minutes outside of Atlanta and could see fluffy white clouds draped like scarves around the skinny necks of skyscrapers. "Just call me," Faith s
4 Marktplatz-Angebote für "Fallen" ab EUR 1,90
Zustand
Preis
Porto
Zahlung
Verkäufer
Rating
gebraucht; gut
1,90
2,00
PayPal, offene Rechnung
Bücherhof
99,4%
ansehen
leichte Gebrauchsspuren
3,39
5,00
PayPal, Banküberweisung
Jochen und Barbara Lienhard GbR
98,6%
ansehen
deutliche Gebrauchsspuren
4,70
1,20
Banküberweisung, PayPal, Selbstabholung und Barzahlung
buchmarie.de
99,7%
ansehen
deutliche Gebrauchsspuren
4,75
1,20
Banküberweisung, PayPal, Selbstabholung und Barzahlung
buchmarie.de
99,7%
ansehen
Andere Kunden kauften auch