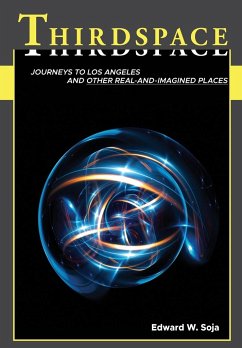 Thirdspace: A Women's Studies Anthology
Broschiertes Buch
Sprache: Englisch
versandkostenfrei

innerhalb Deutschlands

EUR 40,95

Versandfertig in über 4 Wochen

Alle Preise inkl. MwSt.
Andere Kunden interessierten sich auch für
Thirdspace: A Women's Studies Anthology
Edward Soja critically re-evaluates this dualism to create an alternative approach, one that comprehends both the material and mental dimensions of spatiality but also extends beyond them to new and different modes of spatial thinking.Thirdspace is composed as a sequence of intellectual and empirical journeys, beginning with a spatial biography of Henri Lefebvre and his adventurous conceptualization of social space as simultaneously perceived, conceived, and lived. The author draws on Lefebvre to describe a trialectics of spatiality that threads though all subsequent journeys, reappearing in many new forms in bell hooks evocative exploration of the margins as a space of radical openness: in post-modern spatial feminist interpretations of the interplay of race, class, and gender: in the postcolonial critique and the new cultural politics of difference and identity: in Michel Foucault's heterotopologies and trialectics of space, knowledge, and power: and in interpretative tours of the Citadel of downtown Los Angeles, the Exopolis of Orange County, and the Centrum of Amsterdam.
Produktinformation
---
Verlag: Blackwell Publishers
2004
Repr. of the ed. from 1996.
Ausstattung/Bilder: Repr. of the ed. from 1996. 2004. XII, 334 p. w. figs.
Seitenzahl: 352
Englisch
Abmessung: 238mm x 168mm x 19mm
Gewicht: 600g
ISBN-13: 9781557866752
ISBN-10: 1557866759
Best.Nr.: 14504771
"There is much that is innovative and thought provoking in the book ..." Rob Atkinson, Capital and Class "Thirdspace is Sojaa s most demanding theoretical work to date. It is a book which attempts to open up new ways of thinking about and responding to the binaries which continue to dominate the way we make practical and theoretical sense of the world. In concluding this short review of a very complex text I can only echo a comment Derek Gregory (1990:41) made when reviewing Sojaa s Postmodern Goegraphies: a its intellectually sparkle is the product of a rare and generous critical intelligencea ." Richard Bedford, University of Waikato "In all, a compilation of empirical and intellectual journeys." The Geographical Journal " Such as serious and important undertaking by such a prodigious intellect compels an in--depth and extended transdisciplinary and critical dialogue. Its destiny, I suspect, is to be the centre of a heated and fruitful debate. ed Soja has changed how we think about space." Robert Beauregard, Milano graduate School of Management "Soja offers a powerful new way of thinking that simultaneously takes apart and reorganizes the basic premise from which dualistic thinking derives power." Geographical Review
Born in the Bronx and nurtured in its dense diversities, Edward Soja was a street geographer by the time he was ten and a doctoral student in Geography at Syracuse University just after turning twenty--one. For the next two decades, he specialized in the political geography of moderization and nation--building in Africa, holding visiting appointments at the University of Ibadan, Nigeria, and at the University of Nairobi, Kenya. After seven years of teaching at Northwestern University, he joined the Graduate School of Architecture and Urban Planning, UCLA, in 1972. He has twice been department chair in Urban Planning and, for nine years, was the Associate Dean. For the past fifteen years, he has been writing about the postmodernization of Los Angeles, where he lives with his wife Maureen and children, Christopher and Erika.