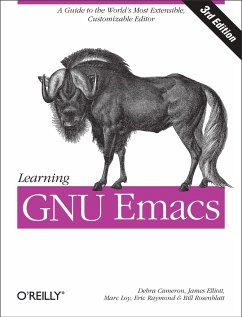 Learning GNU Emacs
A Guide to the World`s Most Extensible, Customizable Editor
By Debra Cameron, James Elliott, Marc Loy et al.
Broschiertes Buch
Sprache: Englisch
versandkostenfrei

innerhalb Deutschlands

Bisher EUR 32,95*

EUR 27,95

Sofort lieferbar

Alle Preise inkl. MwSt.
*Früherer Preis

-15 %
Andere Kunden interessierten sich auch für
Learning GNU Emacs
GNU Emacs is the most popular and widespread of the Emacs family of editors. It is also the most powerful and flexible. Unlike all other text editors, GNU Emacs is a complete working environmentyou can stay within Emacs all day without leaving. Learning GNU Emacs, 3rd Edition tells readers how to get started with the GNU Emacs editor. It is a thorough guide that will also "grow" with you: as you become more proficient, this book will help you learn how to use Emacs more effectively. It takes you from basic Emacs usage (simple text editing) to moderately complicated customization and programming.

The third edition of Learning GNU Emacs describes Emacs 21.3 from the ground up, including new user interface features such as an icon-based toolbar and an interactive interface to Emacs customization. A new chapter details how to install and run Emacs on Mac OS X, Windows, and Linux, including tips for using Emacs effectively on those platforms.

Learning GNU Emacs, third edition, covers:

- How to edit files with Emacs

- Using the operating system shell through Emacs

- How to use multiple buffers, windows, and frames

- Customizing Emacs interactively and through startup files

- Writing macros to circumvent repetitious tasks

- Emacs as a programming environment for Java, C++, and Perl, among others

- Using Emacs as an integrated development environment (IDE)

- Integrating Emacs with CVS, Subversion and other change control systems for projects with multiple developers

- Writing HTML, XHTML, and XML with Emacs

- The basics of Emacs Lisp

The book is aimed at new Emacs users, whether or not they are programmers. Also useful for readers switching from other Emacs implementations to GNU Emacs.
Produktinformation
---
Verlag: O'Reilly Media
2004
3rd ed.
Ausstattung/Bilder: 3rd ed. 2005. XXII, 509 p.
Seitenzahl: 534
Englisch
Abmessung: 235mm x 182mm x 27mm
Gewicht: 854g
ISBN-13: 9780596006488
ISBN-10: 0596006489
Best.Nr.: 13036076
"In meinen Augen ist es ein sehr empfehlenswertes Buch für Anfänger, das wegen seiner guten Gliederung und seiner übersichtlichen Darstellung auch zum konsultierenden Lesen und als Nachschlagewerk für routinierte Anwender geeignet ist." - Uwe Siart, TeX-Stammtisch München
DEBRA CAMERON is President of Cameron Consulting, a market research and consulting firm that helps CIOs and IT managers shape their strategies for emerging technologies. She has written extensively about networking and security technologies and is a well-known presenter for WatchIT.com.