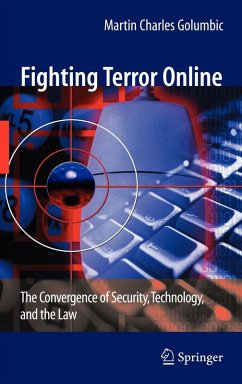 Fighting Terror Online
The Convergence of Security, Technology, and the Law
Gebundenes Buch
Sprache: Englisch
versandkostenfrei

innerhalb Deutschlands

Sofort lieferbar

Alle Preise inkl. MwSt.
Andere Kunden interessierten sich auch für
Fighting Terror Online
The unprecedented events that have taken place in recent years have led legislators and governments throughout the world to reconsider and restructure their policies regarding security issues. Today, worldwide attention is being given to a new security threat, in the form of global terrorism. Legal systems are being called upon to provide a response to these threats, in all areas of life, including the online environment.
Among its many tools, global terror also uses advanced technological methods. This fact presents a difficult challenge to policymakers. Therefore, we have chosen to focus this book on the issue of formulating appropriate policy at the interface between security and technology, human rights and economic policy.
The fundamental issue the tension between security needs and civil rights is not new. A great deal of experience has been amassed in various countries in this regard, and the question that now arises is whether the existing system of principles and laws, developed on the basis of experience gathered in the concrete world, is applicable to the digital environment.
This book presents the position that the online environment is a significant and relevant theater of activity in the fight against terror, and will identify the threats, the security needs, and the issues that are unique to this environment. We examine whether the unique characteristics of this environment require new legal solutions, or whether existing solutions are sufficient. Three areas of online activity are identified that require reexamination: security, monitoring, and propaganda. For each of these, we will indicate the issues, examine existing legal arrangements, and offer guidelines for formulating legal policy. There is a demonstrated need to relate to the digital environment as a battlefront, map the new security threats, and thereby hope to provide focus to the pressing discussion on today's legislative and technological agenda.
Produktinformation
---
Verlag: Springer, Berlin
2009
Ausstattung/Bilder: 2007. XIII, 178 S. 235 mm
Best.Nr. des Verlages: 12089765
Englisch
Abmessung: 239mm x 164mm x 21mm
Gewicht: 454g
ISBN-13: 9780387735771
ISBN-10: 0387735771
Best.Nr.: 23071991
Martin Charles Golumbic is Professor of Computer Science and Director of the Caesarea Edmond Benjamin de Rothschild Foundation Institute for Interdisciplinary Applications of Computer Science at the University of Haifa. He is the editor of the book "Advances in Artificial Intelligence, Natural Language and Knowledge-based Systems" (Springer, 1990), the author of the book "Algorithmic Graph Theory and Perfect Graphs" (second edition, Elsevier 2004), coauthor of a second book "Tolerance Graphs" (Cambridge University Press, 2004), and the founding editor-in-chief of the journal series "Annals of Mathematics and Artificial Intelligence" (Springer). Professor Golumbic received his Ph.D. in mathematics from Columbia University in 1975, and has previously held positions at New York University, Bell Laboratories, IBM Israel and Bar-Ilan University as well as visiting positions at Université de Paris, the Weizmann Institute of Science, and Ecole Polytechnique Fédérale de Lausanne. He has given guest lectures in 15 states in the U.S.A. and in 20 other countries, and he was elected as a Fellow of the European Artificial Intelligence society ECCAI in 2005.
Inhaltsangabe
TABLE OF CONTENTS
Foreword
Acknowledgments
Introduction
Chapter One. The Balance between Security and Civil Rights 1.1 Mapping the Threats: Preventing Physical and Virtual Terrorist Attacks 1.2 Designing Policies to Address New Security Threats
1.2.1 Information warfare.
1.2.2 Data security. 1.2.3 Gathering information and surveillance. 1.2.4 Regulation of encryption products 1.2.5 Terror propaganda
1.3 Preserving Civil Liberties 1.3.1 The right to privacy 1.3.2 Freedom of expression 1.3.3 Enforcement.
1.4 Electronic Commerce and Innovation 1.4.1 Ramifications for research and development 1.4.2 Encryption regulation and electronic commerce
Chapter Two. The Legal Situation: Prevention and Enforcement in the Information Age
2.1 The International Scene 2.1.1 Protection of the right to privacy 2.1.2 International regulation for protection of personal data 2.1.3 International regulation of encryption products
2.1.4 International regulation of decryption products
2.2 The United States 2.2.1 Protection of the right to privacy 2.2.2 Protection of the freedom of speech 2.2.3 American regulation of encryption products 2.2.4 American regulation of decryption products
2.3 The European Union 2.3.1 Protection of the right to privacy 2.3.2 EU regulation of encryption
2.3.3 EU regulation of copyright
2.4 Other Countries 2.4.1 Britain 2.4.2 Canada 2.4.3 Australia
Chapter Three. Israel and Online Terrorism 3.1 The Right to Privacy 3.1.1 Search and seizure
3.1.2 Secret monitoring in Israeli law 3.2 Freedom of Speech 3.2.1 Liability of service providers 3.2.2 Enforcement of hacking prohibitions
3.3 Israeli Regulation of Encryption 3.3.1 The framework of the legal arrangements up to 1998
3.3.2 The framework of the legal arrangements after 1998 3.4 Freedom of Occupation 3.5 Property Rights
Chapter Four. Technological Issues 4.1 What is Encryption? The Technological Basis 4.2 The Basic Principle of Encryption: Letter Replacement 4.3 Symmetrical Encryption 4.4 Asymmetrical Encryption: Public Key and Private Key 4.4.1 Analysis of the RSA method
4.5 How is Information Gathered on the Internet?
4.5.1 General background 4.5.2 Means of collecting information and monitoring the Internet
4.5.3 Collection of information on the server or the PC
Chapter Five. Recommendations: Is There a Need for New Regulations?
5.1 The Existing System's Suitability for the Internet 5.2 Implementing Existing Legal Regulations for the Internet 5.3 Protecting the Right to Privacy 5.4 Liability of Internet service providers
5.5 Regulating Encryption Products to Protect Freedom of Occupation and Property Rights
Concluding Remarks

---
Inhaltsangabe
TABLE OF CONTENTS
Foreword
Acknowledgments
Introduction
Chapter One. The Balance between Security and Civil Rights
1.1 Mapping the Threats: Preventing Physical and Virtual Terrorist Attacks
1.2 Designing Policies to Address New Security Threats
1.2.1 Information warfare.
1.2.2 Data security.
1.2.3 Gathering information and surveillance.
1.2.4 Regulation of encryption products
1.2.5 Terror propaganda
1.3 Preserving Civil Liberties
1.3.1 The right to privacy
1.3.2 Freedom of expression
1.3.3 Enforcement.
1.4 Electronic Commerce and Innovation
1.4.1 Ramifications for research and development
1.4.2 Encryption regulation and electronic commerce
Chapter Two. The Legal Situation: Prevention and Enforcement in the Information Age
2.1 The International Scene
2.1.1 Protection of the right to privacy
2.1.2 International regulation for protection of personal data
2.1.3 International regulation of encryption products
2.1.4 International regulation of decryption products
2.2 The United States
2.2.1 Protection of the right to privacy
2.2.2 Protection of the freedom of speech
2.2.3 American regulation of encryption products
2.2.4 American regulation of decryption products
2.3 The European Union
2.3.1 Protection of the right to privacy
2.3.2 EU regulation of encryption
2.3.3 EU regulation of copyright
2.4 Other Countries
2.4.1 Britain
2.4.2 Canada
2.4.3 Australia
Chapter Three. Israel and Online Terrorism
3.1 The Right to Privacy
3.1.1 Search and seizure
3.1.2 Secret monitoring in Israeli law
3.2 Freedom of Speech
3.2.1 Liability of service providers
3.2.2 Enforcement of hacking prohibitions
3.3 Israeli Regulation of Encryption
3.3.1 The framework of the legal arrangements up to 1998
3.3.2 The framework of the legal arrangements after 1998
3.4 Freedom of Occupation
3.5 Property Rights
Chapter Four. Technological Issues
4.1 What is Encryption? The Technological Basis
4.2 The Basic Principle of Encryption: Letter Replacement
4.3 Symmetrical Encryption
4.4 Asymmetrical Encryption: Public Key and Private Key
4.4.1 Analysis of the RSA method
4.5 How is Information Gathered on the Internet?
4.5.1 General background
4.5.2 Means of collecting information and monitoring the Internet
4.5.3 Collection of information on the server or the PC
Chapter Five. Recommendations: Is There a Need for New Regulations?
5.1 The Existing System s Suitability for the Internet
5.2 Implementing Existing Legal Regulations for the Internet
5.3 Protecting the Right to Privacy
5.4 Liability of Internet service providers
5.5 Regulating Encryption Products to Protect Freedom of Occupation and Property Rights
Concluding Remarks