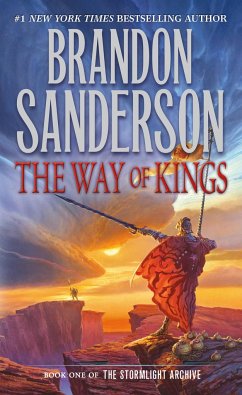 The Way of Kings\Der Pfad der Winde, englische Ausgabe
Broschiertes Buch
Sprache: Englisch
versandkostenfrei

innerhalb Deutschlands

Sofort lieferbar

Alle Preise inkl. MwSt.
*Früherer Preis

-20 %
Andere Kunden interessierten sich auch für
The Way of Kings\Der Pfad der Winde, englische Ausgabe
A "New York Times" bestseller--a richly imagined epic by the author chosen to complete Robert Jordan's Wheel of Time, set in a world relentlessly blasted by awesome tempests, where emotions take physical form, and terrible secrets hide deep within the rocky landscape.

Brandon Sanderson, widely acclaimed for his work completing Robert Jordan's "Wheel of Time saga", begins a grand cycle of his own, with The Way of Kings, Book One of the Stormlight Archive.

Roshar is a world of stone and storms. Uncanny tempests of incredible power sweep across the rocky terrain so frequently that they have shaped ecology and civilization alike. Animals hide in shells, trees pull in branches, and grass retracts into the soilless ground. Cities are built only where the topography offers shelter.

It has been centuries since the fall of the ten consecrated orders known as the Knights Radiant, but their Shardblades and Shardplate remain: mystical swords and suits of armor that transform ordinary men into near-invincible warriors. Men trade kingdoms for Shardblades. Wars were fought for them, and won by them.

One such war rages on a ruined landscape called the Shattered Plains. There, Kaladin, who traded his medical apprenticeship for a spear to protect his little brother, has been reduced to slavery. In a war that makes no sense, where ten armies fight separately against a single foe, he struggles to save his men and to fathom the leaders who consider them expendable.

Brightlord Dalinar Kholin commands one of those other armies. Like his brother, the late king, he is fascinated by an ancient text called The Way of Kings. Troubled by over-powering visions of ancient times and the Knights Radiant, he has begun to doubt his own sanity.

Across the ocean, an untried young woman named Shallan seeks to train under an eminent scholar and notorious heretic, Dalinar's niece, Jasnah. Though she genuinely loves learning, Shallan's motives are less than pure. As she plans a daring theft, her research for Jasnah hints at secrets of the Knights Radiant and the true cause of the war.

The result of over ten years of planning, writing, and world-building, "The Way of Kings" is but the opening movement of the "Stormlight Archive", a bold masterpiece in the making.
Produktinformation
---
Verlag: Macmillan Us; Tor Books
2011
Repr.
Ausstattung/Bilder: Repr. 2011. 1258 p. 171 mm
The Stormlight Archive Vol.1
Englisch
Abmessung: 172mm x 106mm x 55mm
Gewicht: 578g
ISBN-13: 9780765365279
ISBN-10: 0765365278
Best.Nr.: 32466341
Brandon Sanderson, 1975 in Nebraska geboren, schreibt seit seiner Schulzeit phantastische Geschichten. Er studierte Englische Literatur und unterrichtet Kreatives Schreiben. Sein Debütroman avancierte in Amerika auf Anhieb zum Bestseller. Er wurde auserwählt, Robert Jordans großen Fantasy-Zyklus "Das Rad der Zeit" fortzuschreiben. Brandon Sanderson lebt mit seiner Familie in Provo, Utah.
3 Marktplatz-Angebote für "The Way of Kings\Der Pfad der Winde, englische Ausgabe" ab EUR 3,80
Zustand
Preis
Porto
Zahlung
Verkäufer
Rating
wie neu
3,80
2,00
Selbstabholung und Barzahlung, PayPal
alhammer
100,0%
ansehen
leichte Gebrauchsspuren
4,00
1,90
PayPal, offene Rechnung, Banküberweisung
Sellonnet GmbH
99,8%
ansehen
leichte Gebrauchsspuren
8,05
1,90
PayPal, offene Rechnung, Banküberweisung
Mein Buchshop
99,4%
ansehen