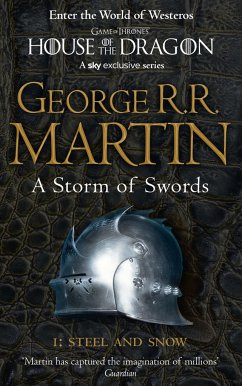 A Song of Ice and Fire 03. Storm of Swords 1
Broschiertes Buch
Sprache: Englisch
versandkostenfrei

innerhalb Deutschlands

Bisher EUR 10,95*

EUR 8,95

Sofort lieferbar

Alle Preise inkl. MwSt.
*Früherer Preis

-18 %
Andere Kunden interessierten sich auch für
A Song of Ice and Fire 03. Storm of Swords 1
The Seven Kingdoms are divided by revolt and blood feud; a bitter winter is approaching and the wildings are poised to invade the Kingdom of the North. Robb Stark must protect himself from them and from the threat of his mortal enemies, the Lannisters, in the south.
Produktinformation
---
Englisch
Abmessung: 177mm x 110mm x 45mm
Gewicht: 352g
ISBN-13: 9780006479901
ISBN-10: 0006479901
Best.Nr.: 21769240
'Nobody does fantasy quite like George R.R. Martin' Sunday Times 'Colossal, staggering... all the intoxicating complexity of the Wars of the Roses or Imperial Rome' SFX 'The sheer mind-boggling scope of this epic has sent other fantasy writers away shaking their heads... Its ambition: to construct the Twelve Caesars of fantasy fiction, with characters so venomous they could eat the Borgias' Guardian
George R. R. Martin, geb. 1948 in Bayonne/New Jersey, veröffentlichte seine ersten Kurzgeschichten im Jahr 1971 und gelangte damit in der Science-Fiction-Szene zu frühem Ruhm. Gleich mehrfach wurde ihm der renommierte Hugo Award verliehen. Danach arbeitete er in der Produktion von Fernsehserien, etwa als Dramaturg der TV-Serie 'Twilight Zone', ehe er 1996 mit einem Sensationserfolg auf die Bühne der Fantasy-Literatur zurückkehrte: Sein mehrteiliges Epos 'Das Lied von Eis und Feuer' wird einhellig als Meisterwerk gepriesen. George R. R. Martin lebt in Santa Fe, New Mexico.
4 Marktplatz-Angebote für "A Song of Ice and Fire 03. Storm of Swords 1" ab EUR 0,43
Zustand
Preis
Porto
Zahlung
Verkäufer
Rating
gebraucht; gut
0,43
3,00
offene Rechnung (Vorkasse vorbehalten), PayPal, offene Rechnung, Banküberweisung
getbooks GmbH
99,8%
ansehen
leichte Gebrauchsspuren
5,99
2,00
Banküberweisung
Versandantiquariat Jena
99,0%
ansehen
leichte Gebrauchsspuren
6,50
1,10
Banküberweisung
van_loehten
100,0%
ansehen
deutliche Gebrauchsspuren
8,50
0,00
Selbstabholung und Barzahlung, Banküberweisung
sabinesbuecher
100,0%
ansehen
Andere Kunden kauften auch