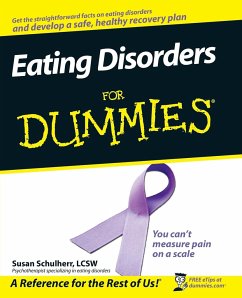 Eating Disorders For Dummies
Broschiertes Buch
Sprache: Englisch
versandkostenfrei

innerhalb Deutschlands

Versandfertig in über 4 Wochen

Alle Preise inkl. MwSt.
Andere Kunden interessierten sich auch für
Eating Disorders For Dummies
Eating Disorders For Dummies serves as a comprehensive, practical guide for sufferers and their loved ones covering anorexia, bulimia, and other disorders/syndromes such as binging and night eating syndrome. It shows readers how to access the latest treatment techniques, deal with eating and exercise in and out of the home, find a good therapist, and take charge of ensuring recovery. It also explores issues like depression and anxiety and includes questionnaires, checklists for ongoing evaluation, and charts for monitoring and developing positive eating patterns.
Produktinformation
---
Verlag: Wiley & Sons
2008
Ausstattung/Bilder: 2008. 384 p.
Seitenzahl: 364
Englisch
Abmessung: 232mm x 190mm x 21mm
Gewicht: 565g
ISBN-13: 9780470225493
ISBN-10: 0470225491
Best.Nr.: 23144881
Susan Schulherr, LCSW, is a licensed clinical social worker who has had a private psychotherapy practice in New York City for nearly 30 years. She has worked with people with eating disorders for over 20 of those years. Her chapter on treating binge eating disorder appears in the 2005 book, EMDR Solutions: Pathways to Healing (Shapiro, Norton). Her article, "The Binge-Diet Cycle: Shedding New Light, Finding New Exits," was published in Eating Disorders: The Journal of Treatment and Prevention (1998). She has presented workshops at the local and national level on eating disorders and on issues of weight and eating to both professional and nonprofessional audiences.

Ms. Schulherr is a trained family and couples therapist. She has extensive experience in the trauma specialty approaches of EMDR and Somatic Experiencing, each of which she has adapted for the treatment of eating disorders.
Inhaltsangabe
- Introduction

Part I: Eating Disorders: An All-Consuming World of Their Own
- Chapter 1: Understanding Eating Disorders
- Chapter 2: Getting Insight into Anorexia Nervosa
- Chapter 3: Seeing Inside Bulimia Nervosa
- Chapter 4: Understanding Binge Eating Disorder
- Chapter 5: Eating Disorder Risk Factors
- Chapter 6: Deconstructing Your Body with an Eating Disorder
- Chapter 7: Sidekicks That Often Accompany Eating Disorders

Part II: Getting Well: Exploring Recovery and Treatment Options
- Chapter 8: Seeing What Recovery Looks Like
- Chapter 9: Deciding the Who, What, and Where for Treatment
- Chapter 10: Finding the Treatment Approach That's Right for You
- Chapter 11: Including Other People in Your Treatment
- Chapter 12: Exploring Medication and Other Approaches
- Chapter 13: Making Good Use of the Approach You Choose
- Chapter 14: Managing Early Stage Recovery and the Reality of Relapse

Part III: Eating Disorders in Special Populations
- Chapter 15: Eating Disorders in Males
- Chapter 16: Athletes and Eating Disorders
- Chapter 17: Eating Disorders on the Stage, Screen, and Runway
- Chapter 18: Eating Disorders in Children
- Chapter 19: Eating Disorders Later In Life
- Chapter 20: Eating Disorders and People Who Are Obese

Part IV: Advice and Help for Families and Others Who Care
- Chapter 21: Forming a Plan to Help the Person with an Eating Disorder
- Chapter 22: Implementing Your Plan to Help
- Chapter 23: Making Life Livable While Supporting Another's Recovery
- Chapter 24: Finding Support for Yourself While Supporting Another's Recovery

Part V: The Part of Tens
- Chapter 25: Ten Don'ts: Behaviors and Thoughts to Avoid
- Chapter 26: Ten Do's: Ways to Enhance Your Recovery

- Resource Guide
- Index