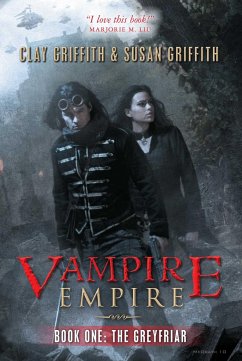 Vampire Empire - The Greyfriar\Vampire Empire - Schattenprinz, englische Ausgabe
Broschiertes Buch
Sprache: Englisch
versandkostenfrei

innerhalb Deutschlands

Sofort lieferbar

Alle Preise inkl. MwSt.
Andere Kunden interessierten sich auch für
Vampire Empire - The Greyfriar\Vampire Empire - Schattenprinz, englische Ausgabe
"Vampire Empire: The Greyfriar" is the first book in a trilogy of high adventure and alternate history that combines rousing pulp action, steampunk style, and epic adventure. In the year 1870, a horrible plague of vampires swept over the northern regions of the world. Millions of humans were killed outright.
Millions more died of disease and famine due to the havoc that followed. Within two years, once-great cities were shrouded by the grey empire of the vampire clans. Human refugees fled south to the tropics because vampires could not tolerate the constant heat there.
They brought technology and a feverish drive to re-establish their shattered societies of steam and iron amid the mosques of Alexandria, the torrid quietude of Panama, and the green temples of Malaya. It is now 2020 and a bloody reckoning is coming. Princess Adele is heir to the Empire of Equatoria, a remnant of the old tropical British Empire.
She is quick-witted as well as with sword or gun. She is eager for an adventure before she settles into a life of duty and political marriage to a man she does not know. But her quest turns black when she becomes the target of a merciless vampire clan.
Her only protector is the Greyfriar, a mysterious hero who fights the vampires from deep within their territory. Their dangerous relationship plays out against an approaching war to the death between humankind and the vampire clans.
Produktinformation
---
Verlag: Prometheus Books
2011
Ausstattung/Bilder: 2011. 320 p. 229 mm
Seitenzahl: 303
Vampire Empire Vol.1
Englisch
Abmessung: 229mm x 154mm x 24mm
Gewicht: 335g
ISBN-13: 9781616142476
ISBN-10: 1616142472
Best.Nr.: 29947931
Praise for the Vampire Empire trilogy: "Vampire Empire is one of the best fantasy series I've read, set in a unique postapocalyptic world. The landscapes, the peoples, and the incredible gizmos will attack your senses. Their unforgettable characters will stay with you as the tale unwinds." - RT Book Reviews "The best vampire series I have read in ages. . . . I am blown away by it. It has it all: romance, steampunk, vampires, adventure, and impossible odds for the hero to overcome." - Vampire Librarian "If I was stuck on a deserted island and could only have one vampire book series with me, my choice would be the Griffiths' Vampire Empire saga. Bye Lestat, farewell Edward. . . . Thank you to the Griffiths for fueling and continuing my love of vampire novels." - Reader Girls "Filled with mind-boggling political intrigue, betrayal, deception, magic, and a healthy dose of romance-you will be once again swept away by this burgeoning epic saga. . . . The Vampire Empire series remains at the top of my must-read list in Urban Fantasy." - Smexy Books
Clay und Susan Griffith sind verheiratet und schreiben seit über zehn Jahren gemeinsam. Sie verfassen Drehbücher fürs Fernsehen und sind in den USA auch bereits mit eingen Kurzgeschichten an die Öffentlichkeit getreten.