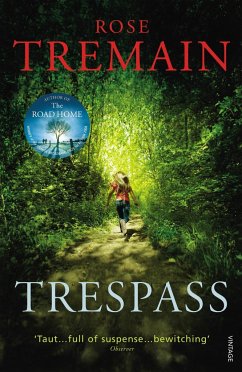 Trespass\Der unausweichliche Tag, englische Ausgabe
Broschiertes Buch
Sprache: Englisch
versandkostenfrei

innerhalb Deutschlands

Sofort lieferbar

Alle Preise inkl. MwSt.
Andere Kunden interessierten sich auch für
Trespass\Der unausweichliche Tag, englische Ausgabe
Paperback edition of Tremain's latest novel, which was longlisted for the Man Booker Prize. A thrilling tale about disputed territory, sibling love and devastating revenge. Tremain's previous novel, "The Road Home", won the Orange Prize and sold over 300,000 copies. 'Rose Tremain must surely be one of the most versatile novelists writing today...' "Daily Express"

In a silent valley stands an isolated stone farmhouse, the Mas Lunel. Its owner is Aramon Lunel, an alcoholic so haunted by his violent past that he's become incapable of all meaningful action, letting his hunting dogs starve and his land go to ruin. Meanwhile, his sister, Audrun, alone in her modern bungalow within sight of the Mas Lunel, dreams of exacting retribution for the unspoken betrayals that have blighted her life. Into this closed Cevenol world comes Anthony Verey, a wealthy but disillusioned antiques dealer from London. Now in his sixties, Anthony hopes to remake his life in France, and he begins looking at properties in the region. From the moment he arrives at the Mas Lunel, a frightening and unstoppable series of consequences is set in motion. Two worlds and two cultures collide. Ancient boundaries are crossed, taboos are broken, a violent crime is committed. And all the time the Cevennes hills remain, as cruel and seductive as ever, unforgettably captured in this powerful and unsettling novel, which reveals yet another dimension to Rose Tremain's extraordinary imagination.
Produktinformation
---
Verlag: Random House Uk
2010
Ausstattung/Bilder: 2011. 320 p.
Englisch
Abmessung: 29mm x 132mm x 198mm
Gewicht: 265g
ISBN-13: 9780099478454
ISBN-10: 0099478455
Best.Nr.: 28955306
"Taut ...full of suspense...bewitching" -- Ruth Scurr Observer "THRILLING...a terrific book, accomplished in its poised, imaginative storytelling and its vivid, sensual rendering of landscape and character, emotion and memory" The Times "An intelligent and terrifyingly plausible meditation" Sunday Telegraph "A sumptuously shaded portrait of a private, lonely place and its stranded people" Independent "Tremain is a writer of particular elegance and control, and her story unfolds from its arresting first scene to its luminous final image as gracefully as a ballet" The Telegraph, Review Magazine
Rose Tremain, 1943 geboren, wuchs in London auf und studierte an der Sorbonne. Sie war Dozentin für Englisch, Lehrerin und Lektorin, veröffentlichte Romane und Kurzgeschichten, schrieb aber auch für Film, Funk und Fernsehen.Ihre Bücher, für die sie mit zahlreichen Preisen aufgezeichnet wurde (u.a. dem Prix Femina Etranger) erschienen in 14 Sprachen. Für Melodie der Stille erhielt sie 2000 den Whitebread-Preis. Sie lebt in Norfolk.