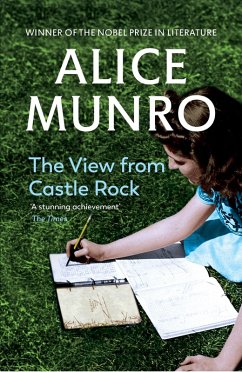 The View from Castle Rock\Wozu wollen Sie das wissen, englische Ausgabe
Stories
Broschiertes Buch
Sprache: Englisch
versandkostenfrei

innerhalb Deutschlands

Sofort lieferbar

Alle Preise inkl. MwSt.
*Früherer Preis

-8 %
Andere Kunden interessierten sich auch für
The View from Castle Rock\Wozu wollen Sie das wissen, englische Ausgabe
On a clear day, you could see 'America' from Edinburgh's Castle Rock - or so said Alice Munro's great-great-great-grandfather, James Laidlaw, when he had drink taken. Then, in 1818, Laidlaw left the parish of 'no advantages', of banked Presbyterian emotions and uncanny tales - where, like his more famous cousin James Hogg, he was born and bred - and sailed to the new world with his family. This is the story of those shepherds from the Ettrick Valley and their descendants, among them the author herself. They were a Spartan lot, who kept to themselves; showing off was frowned on, and fear was commonplace, at least for females ...But opportunities present themselves for two strong-minded women in a ship's close quarters; a father dies, and a baby vanishes en route from Illinois to Canada; another story hints at incest; childhood is short and hazardous. This is family history where imperfect recollections blur into fiction, where the past shows through the present like the tracks of a glacier on a geological map. First love flowers under an apple tree while lust rears its head in a barn; a restless mother with ideas beyond her station declines painfully; a father farms fox fur and turkeys; a clever girl escapes to college and then into a hasty marriage. Beneath the ordinary landscape there's a different story - evocative, frightening, sexy, unexpected, gripping. Alice Munro tells it like no other.
Produktinformation
---
Abmessung: 198mm x 131mm x 27mm
Gewicht: 260g
ISBN-13: 9780099497998
ISBN-10: 0099497999
Best.Nr.: 23254996
"This is a rare and fascinating work" -- Karl Miller Guardian "A stunning achievement" -- Sarah Emily Miano The Times "Beautifully written, this delicate interweaving of fact and fiction is Munro on top form" Daily Mail "The power of Munro's storytelling never falters. It is almost otiose to add to the clamour of praise for her writing, but necessary, nevertheless. This is a remarkable book" -- Jane Shilling Sunday Telegraph "If there is one writer who proves that the short story should never be deemed the uninspiring younger sibling of the novel, it is Munro" -- Melissa McClements Financial Times
Alice Munro, geboren 1931 in Ontario, gehört zu den bedeutendsten Autorinnen der Gegenwart und gilt seit Jahren als Kandidatin für den Literaturnobelpreis. Mit ihrem umfangreichen erzählerischen Werk - sie hat elf Erzählungsbände und einen Roman veröffentlicht - ist sie Bestsellerautorin in ihrem Heimatland Kanada und der gesamten angelsächsischen Welt. 2009 wurde sie mit dem "Man Booker International Prize" ausgezeichnet.