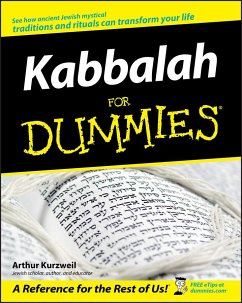 Kabbalah For Dummies
Broschiertes Buch
Sprache: Englisch
versandkostenfrei

innerhalb Deutschlands

Versandfertig in über 4 Wochen

Alle Preise inkl. MwSt.
Andere Kunden interessierten sich auch für
Kabbalah For Dummies
In recent years, celebrities from Madonna and Demi Moore to Mick Jagger and Britney Spears-as well as many ordinary people-have taken up the teachings of Kabbalah. But what is Kabbalah? And how can it help people in their daily lives? This balanced introductory guide provides the answers and explains the basic concepts of Kabbalah and reveals how to put them into daily practice. It outlines the history of Kabbalah, describes the major texts, and examines age-old Kabbalah controversies as well as recent conflicts. And the book shows how Kabbalah study, worship, and rituals can help people see the light, understand the mystical tree of life, and grow closer to God.

Study, pray, and celebrate the Kabbalah way

Understand the spiritual and ethical teachings of the practice

Curious about Kabbalah? This friendly, plain-English guide clears up the common misconceptions about this mystical tradition, showing you how to incorporate its wisdom into your daily life. You'll explore the history of Kabbalah and its major texts, understand the mystical tree of life, examine Kabbalah controversies and conflicts, and see how Kabbalists grow closer to God.

Discover how to

- How to live life like a Kabbalist

- The big "secret" of Kabbalah

- What Kabbalah is - and isn't

- The importance of karma and reincarnation

- The contributions of great Kabbalists
Produktinformation
---
Verlag: Wiley & Sons
2006
Ausstattung/Bilder: 384 pages - 236 x 187 mm
Seitenzahl: 366
Best.Nr. des Verlages: 14691590000
Englisch
Abmessung: 234mm x 188mm x 20mm
Gewicht: 585g
ISBN-13: 9780471915904
ISBN-10: 0471915904
Best.Nr.: 20931025
Arthur Kurzweil is known as America's foremost Jewish genealogist. The author/editor of several books, he lectures extensively on the subjects of Judaica, magic, and mysticism.
Inhaltsangabe
Introduction.

Part I: So, What's the Big Secret? Unmasking Kabbalah.
Chapter 1: What Is Kabbalah?
Chapter 2: Magic, Mishegas, and Other Things that Kabbalah Isn't.
Chapter 3: Looking Back: A Brief History Of Kabbalah.

Part II: Cutting to the Core of Kabbalah.
Chapter 4: The Link between Heaven and Earth: Kabbalah's Own Top-Ten Countdown.
Chapter 5: Everything (Even a Traffic Jam) Is for the Best.
Chapter 6: Our Bodies Don't Have Souls; Our Souls Have Bodies.
Chapter 7: Like Déjà Vu All Over Again: Reincarnation in Kabbalah.
Chapter 8: Instant Karma's Gonna Get You.

Part III: Livin' La Vida Kabbalah.
Chapter 9: Living One Day at a Time.
Chapter 10: Living One Week at a Time.
Chapter 11: A Year in the Life of a Kabbalist.
Chapter 12: A Kabbalist's Life Cycle.

Part IV: Fine-tuning the Essential Skills of the Kabbalist.
Chapter 13: Discovering the Kabbalistic Books that Really Matter.
Chapter 14: Hitting the Books -- and Kissing Them: Studying Like a Kabbalist.
Chapter 15: Praying Like a Kabbalist.
Chapter 16: Knowing the Unknowable God.

Part V: The Part of Tens.
Chapter 17: (Almost) Ten Myths about Studying Kabbalah.
Chapter 18: Ten Great Kabbalists in History.
Chapter 19: Ten Places that Kabbalists Visit.

Part VI: Appendixes.
Appendix A: Books and Authors You'll Thank Me For Recommending.
Appendix B: Patriarchs, Swindlers, Prophets, and Sinners: Meet 100 Torah Characters.
Appendix C: A Glossary of Everything Kabbalah.Index.