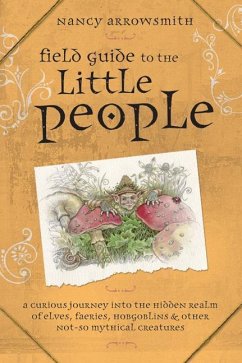 Field Guide to the Little People: A Curious Journey Into the Hidden Realm of Elves, Faeries, Hobgoblins & Other Not-So-Mythical Creatures
Broschiertes Buch
Sprache: Englisch
versandkostenfrei

innerhalb Deutschlands

EUR 18,95

Sofort lieferbar

Alle Preise inkl. MwSt.
Andere Kunden interessierten sich auch für
Field Guide to the Little People: A Curious Journey Into the Hidden Realm of Elves, Faeries, Hobgoblins & Other Not-So-Mythical Creatures
In high summer meadows, nestled in the moors, near old castles, or behind the kitchen stove--these are the places where the Little People may be found. Make the acquaintance of White Ladies and Red Caps, Church Grims and Hobgoblins, English Fairies, Leprechauns, Sirens, Hey-Hey Men, and all of their strange and mythical kin. Become wise in the ways of these magical creatures, some beautiful and benevolent, others cunning, menacing, or morose. For many years, this field guide has been as elusive as a Will-o'-the-Wisp. This is the first opportunity for fans to once again own an English-language edition of one of the most revered introductions to elf folk ever written. Featuring more than 80 new illustrations "Rationalists, materialists, be forewarned: the ancient forces governing earthly incident and momentum lie neither in our heads nor our economics, but, rather, in the revelations from A Field Guide to the Little People." --The New York Times
Produktinformation
---
Verlag: LLEWELLYN PUB
2009
Seitenzahl: 297
Englisch
Abmessung: 231mm x 154mm x 27mm
Gewicht: 541g
ISBN-13: 9780738715490
ISBN-10: 0738715492
Best.Nr.: 26465237
Nancy Arrowsmith is the founder and former editor-in-chief of Kraut and Ruben, Germany's first organic gardening magazine. She also founded the international seed-saving organization Noah's Ark. Arrowsmith has a master's degree in acupuncture and has a healing practice in Arizona.