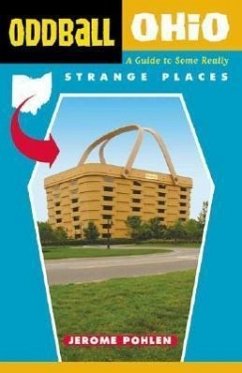 Oddball Ohio: A Guide to Some Really Strange Places
Broschiertes Buch
Sprache: Englisch
versandkostenfrei

innerhalb Deutschlands

Versandfertig in über 4 Wochen

Alle Preise inkl. MwSt.
Andere Kunden interessierten sich auch für
Oddball Ohio: A Guide to Some Really Strange Places
This off-the-wall travel guide presents an Ohio odder than imagined. It wastes no time describing Cedar Point or suggesting scenic bike rides through the Hocking Hills; instead, this entertaining travel companion directs out-of-state adventurers and Buckeye state residents to the home of the world's largest cockroach, an Amish SUV, Egg Shell Land, a two-headed calf, and the Accounting Hall of Fame. Ohio is depicted as the birthplace of bar codes, Airstream trailers, televangelism, Paul Lynde, Alcoholics Anonymous, and the banana split. Odd stories abound, and tales of Ohio as the only state where Jerry Springer has been elected the mayor of a major city, where a brick outhouse is on the National Register of Historic Places, and where Buster the Dog voted for president accompany the site-seeing suggestions. Plenty of photos and maps ensure that this guide is as practical as it is wacky when seeking out wonders such as the Great Pumpkin Watertower, Goodyear's World of Rubber, and Bogart and Bacall's wedding site, then relaxing with a brew at the World's Longest Bar.
Produktinformation
---
Verlag: CHICAGO REVIEW PR
2004
Seitenzahl: 288
Englisch
Abmessung: 216mm x 140mm x 15mm
Gewicht: 340g
ISBN-13: 9781556525230
ISBN-10: 1556525230
Best.Nr.: 21976579
"An interesting read, full of trivia, facts and unusual destinations." -- The Columbus Dispatch. "Great guide to offbeat sites around the state." -- The Buffalo News. "If they ever make bookshelves for automobiles, reserve a slot for Oddball Ohio." -- Ohioana Quarterly.
Jerome Pohlen is the author of "Oddball Colorado", "Oddball Florida", "Oddball Illinois", "Oddball Indiana", "Oddball Minnesota", and "Oddball Wisconsin". He is a regular travel commentator for "848" on WBEZ, the Chicago affiliate of National Public Radio, and was the recipient of the Illinois Broadcasters Associated Press Award for Best Essay 2002. He lives in Chicago.
Inhaltsangabe
Preface
Introduction: Ride the High Country or "They Went Thataway"
Cowboy Codes: Straight &amp
Pure &amp
All Boy
When We were Young: Nostalgia &amp
the Cowboy Hero
Arms &amp
the Man: The Friendly Gun
Give Me My Boots &amp
Saddles: Camp Cowboy
Tall in the Saddle: Romance on the Range
White Hats &amp
White Heroes: Who Is That Other Guy?
Virgin Land: Landscape, Nature, &amp
Masculinity
Corporate Cowboys &amp
the Shaping of a Nation
Postscript - The Frontiersman (1938)
List of Films Mentioned
References
Index.