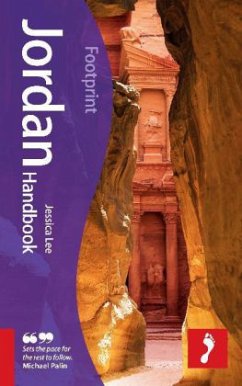 Footprint Jordan Footprint Handbook
Gebundenes Buch
Sprache: Englisch
versandkostenfrei

innerhalb Deutschlands

Sofort lieferbar

Alle Preise inkl. MwSt.
*Früherer Preis

-18 %
Andere Kunden interessierten sich auch für
Footprint Jordan Footprint Handbook
Small, unassuming and often overlooked, Jordan is a country brimming with historic attractions and natural beauty. Written by a regional expert, Footprint s new guide includes detailed coverage of Jordan s history, culture and
archaeology with plans and details of all the major sites, as well as those off the beaten track. This guidebook also
offers advice on how to make the most of the stunning scenery, including the best places for camel safaris, diving
and snorkelling, rock climbing and archaeological digs. With comprehensive listings on where to sleep and eat for all
budgets and detailed maps to help you get around, Footprint s Jordan Handbook will help ensure travelers enjoy
the very best experiences. Background information on history, culture, religion, landscape and archaeology Plans and details of all the major sites and as well as those off the beaten track Highlights the best activities this stunning country has to offer from camel safaris, diving and snorkeling to rock-climbing and archaeological digs Includes information on how to get there and how to get around plus carefully planned itineraries to help you have the best possible experience whether you re traveling for two, three or four weeks Features indispensable advice on traveling with children The heart of the guide is divided by region and each region features an overview map, local information on how to get around and detailed street maps where relevant Detailed listings on where to sleep, eat and play are provided for every destination within each region, enabling you to have an even better travel experience.
Produktinformation
---
Verlag: Footprint
2011
2nd ed.
Ausstattung/Bilder: 2nd ed. 2011. 384 p. w. 8 plates. 210 mm
Seitenzahl: 384
Footprint Handbooks
Englisch
Abmessung: 185mm x 120mm x 23mm
Gewicht: 326g
ISBN-13: 9781907263286
ISBN-10: 1907263284
Best.Nr.: 32071879
Since deciding that growing up and getting a proper job was highly overrated at the tender age of 18, New Zealander Jessica Lee has travelled extensively in Asia, Africa and Latin America. A small obsession with houmous and a large obsession with nomadic people led her to the Middle East in 2004 where she fell in love with the Arabic language and the incredible hospitality of the people. She has lived there full-time since 2007, working as a tour leader as well as a writer. When not on the overland trail between Cairo and Istanbul, she can usually be found among the fairy chimneys of central Anatolia where she is attempting to renovate a cave-house.
Inhaltsangabe
(1)Planning your trip; (2)Essentials; (3)Amman; (4)Around Amman; (5)East of Amman; (6) Jerash and the North; (7) Jordan Valley; (8) King s Highway; (9) Petra; (10) Wadi Rum; (11) Aqaba; (12) Background; (13) Footnotes
2 Marktplatz-Angebote für "Footprint Jordan Footprint Handbook" ab EUR 27,40