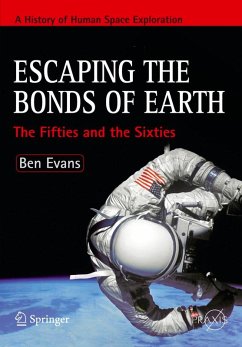 Escaping the Bonds of Earth
The Fifties and the Sixties
Broschiertes Buch
Sprache: Englisch
versandkostenfrei

innerhalb Deutschlands

Sofort lieferbar

Alle Preise inkl. MwSt.
Andere Kunden interessierten sich auch für
Escaping the Bonds of Earth
pTo commemorate the momentous 50supth/sup anniversary of Yuri Gagarin's pioneering journey into space on 12supth/sup April 2011, a series of five books - to be published annually - will explore this half century, decade by decade, to discover how humanity's knowledge of flying, working and living in space has changed. Each volume will focus not only upon the individual missions within 'its' decade, but also upon the key challenges facing human space exploration at specific points within those 50 years: from the simple problems of breathing and eating in space to the challenges of venturing outside in a pressurised spacesuit and locomotion on the Moon./ppThe first volume of this series will focus upon the 1960s, exploring each mission from April 1961 to April 1971 in depth: from the pioneering Vostok flights to the establishment of the first Salyut space station and from Alan Shepard's modest sub-orbital 'hop' into space to his triumphant arrival at the Moon's Fra Mauro foothills almost a decade later./p
Produktinformation
---
Springer Praxis Books
Verlag: Springer-Verlag GmbH
2009
Ausstattung/Bilder: 170 schwarz-weiße Abbildungen
Springer Praxis Books
Best.Nr. des Verlages: 12032358
Englisch
Abmessung: 249mm x 172mm x 30mm
Gewicht: 1015g
ISBN-13: 9780387790930
ISBN-10: 0387790934
Best.Nr.: 25684898
From the reviews: "Escaping the Bonds of Earth is a comprehensive account of human space exploration, from the early planning phases in the late fifties ... . The book describes the space rivalry not only between the two opposing nations, but also within the US space program itself. ... Escaping the Bonds of Earth is not only enjoyable and educational to read, but would be a great addition to anyone's space exploration library. ... quality of this work would make it an excellent text for many history courses." (Stephen Adamczyk, National Space Society, September, 2009) "There are countless space buffs in the world, but writer Evans ... stands out for his detailed historical account of the first decade of the space age. ... The text is liberally illustrated with photos and carefully referenced. ... This book is a must have for any space aficionado. Summing Up: Highly recommended. All levels of readership." (T. D. Oswalt, Choice, Vol. 47 (5), January, 2010)
Inhaltsangabe
Preface.
Acknowledgements.
Introduction.
From the East
The Vostok missions.
Monkeys to Men
The Mercury missions.
Space Spectaculars
The twin Voskhod missions.
Pushing the Envelope
The Gemini missions.
Disaster and Revival
The Soyuz 1 and Apollo 1 tragedies and aftermath.
To the Moon
The United States' drive for the Moon, up to Apollo 14.
At Home in Space
Soviet direction changes from lunar exploration to long
term space stations.
Epilogue The progress of the human space program in the 1960s.