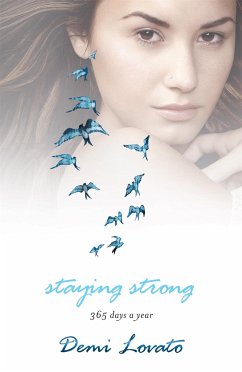 Staying Strong
Gebundenes Buch
Sprache: Englisch
versandkostenfrei

innerhalb Deutschlands

Sofort lieferbar

Alle Preise inkl. MwSt.
*Früherer Preis

-13 %
Andere Kunden interessierten sich auch für
Staying Strong
Demi Lovato wakes up each morning and affirms her commitment to herself-to her health, her happiness, her being. Those commitments are the bedrock of her recovery and her work helping other young people dealing with the issues she lives with every single day. Demi is a platinum-selling recording artist whose latest album-DEMI-is already a smash hit. She's about to embark on her second season as a judge on X-Factor, and just launched The Lovato Treatment Scholarship Program. And she is an outspoken advocate for young people everywhere. Demi is also a young woman finding her way in the world. She has dealt deftly with her struggles in the face of public scrutiny, and she has always relied, not just on friends and family, but daily affirmations of her self-worth and value. Affirmations that steady her days and strengthen her resolve. Those affirmations have grown into STAYING STRONG, a powerful 365-day collection of Demi's most powerful, honest, and hopeful insights. Each day will provide the readers with a quote, a personal reflection and a goal. These are Demi's words. Words she lives by and shares with the people she loves and total strangers alike. They are a powerful testament to a young woman standing up and fighting back.
Produktinformation
---
Verlag: Headline
2014
Ausstattung/Bilder: 2013. 416 p. 203 mm
Seitenzahl: 416
Englisch
Abmessung: 205mm x 134mm x 40mm
Gewicht: 488g
ISBN-13: 9781472218070
ISBN-10: 1472218078
Best.Nr.: 39905297
Twenty-one-year-old Demi Lovato's fame began when she was cast on Barney and Friends. From the outside, she was all smiles, but as she grew up in front of the camera-the star of the record-breaking Camp Rock franchise; leading lady of her own Disney show, Sonny with a Chance; and a budding music career-she was falling apart. As Demi entered adolescence, she was being bullied, and she struggled with bulimia, suicidal thoughts, substance abuse, and eventually secretly began cutting herself. Her career was taking off, but she bowed out of her world-wide tour and checked herself into rehab, which she successfully completed. She started the Lovato Treatment Scholarship program to help others with their illnesses. She's currently entering her second season as an X-Factor judge and her latest album Demi has gone platinum. She will also be joining the fifth season of Glee. Demi has many accolades, including one MTV Video Music Award, twenty-five Teen Choice Awards nominations, 14 of which she has won, four People's Choice Awards, one ALMA award, a Billboard Touring Award and several others. Outside of her work in the entertainment industry, Lovato is involved in philanthropic activity through charity work and various social and environmental causes. In May 2013 she was awarded for her dedication as a mentor to teens and young adults with mental health challenges at a National Children's Mental Health Awareness day hosted by SAMHSA in Washington.
Kundenbewertungen zu "
Staying Strong

" von "Demi Lovato"

1 Kundenbewertung

(Durchschnitt )
| | |
| --- | --- |
| | Schreiben Sie eine Kundenbewertung zu "Staying Strong" und Gewinnen Sie mit etwas Glück einen 15 EUR buecher.de-Gutschein |
---
Bewertung von Löffel aus Donauwörth am 02.02.2014
Dieses Buch ist wie ein Kalender aufgebaut. Für jeden Tag gibt es eine Seite. Die Sängerin und Schauspieler Demi Lovato führt den Leser jeden Tag ein Stück tiefer in ihre Welt. Am Anfang eines jeden Blattes steht ein Spruch, der sie selbst inspiriert hat. Dann erklärt sie was der Spruch für sie bedeutet und wie man ihn verstehen kann, oder wie Sie ihn versteht. Am Schluss setzt sie ein einfaches Ziel, das man an diesem Tag erreichen soll.
Dieses Buch ist wie Demi selbst. Es ist ein Blick in ihre Seele und das macht es einzigartig. Sie macht jedem klar, dass auch Stars Probleme haben können, dafür muss man wissen, dass Demi unter anderem an Bulimie litt, woran möglicherweise ihre bipolare Störung Schuld ist. Ich würde es jedem empfehlen, der täglich ein wenig Inspiration braucht und/oder ein kleines Ziel.
---
Sie kennen "Staying Strong" von Demi Lovato ?